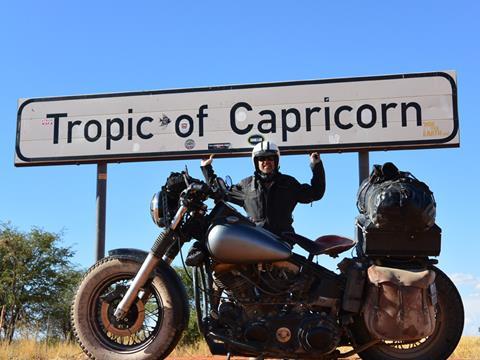 The Waitrose Foundation and the Fairtrade Foundation are backing two food industry veterans on a 10,000-mile journey to tell children more about where food comes from.

Max MacGillivray and Gareth Jones' Great Fruit Adventure will see them ride motorbikes from London to Cape Town to raise awareness of how fruit and vegetables arrive in our shops.

The four-month trek will take them to growers in Europe and Africa including some backed by the Waitrose Foundation and the Fairtrade Foundation.

MacGillivray, MD of Redfox, which specialises in recruitment for fresh food, agribusiness and retail, said he was motivated after reading that six out of 10 British children had no idea where the fruit and veg they ate came from.

"I want to tell the story of the fantastic places where our fruit and veg are grown and having two big industry names backing us all the way is incredible," he said.

MacGillivray and Jones, who runs a milk delivery company with his brother, which still delivers milk in electric milk floats to more than 3,000 customers in the Vale of Glamorgan, said they planned to film and blog about the farms and growers they visited.

Their destinations will include citrus growers in Spain, the largest grower of sweetcorn in Senegal, a fruit grower in Ghana supplying Waitrose and Sainsbury's with prepared fruit products, flowers growers in Ethiopia and Mozambique, vegetable and coffee growers in Kenya and Tanzania, and fresh produce growers in South Africa.

Amali Bunter, responsible sourcing manager at the Waitrose Foundation, said the trip would enable understanding of how it invested in the communities where some of its food was produced.

"By being involved in The Great Fruit Adventure we hope that children will gain a fascinating insight into where their food comes from and how the Waitrose Foundation is impacting positively on communities across Africa," she said.

Joanna Milis, education campaigns manager at the Fairtrade Foundation, which licenses the use of the Fairtrade mark in the UK, said The Great Fruit Adventure would champion its work to help schoolchildren understand where food came from and how shopping choices could support farmers in developing nations.

The Great Fruit Adventure is a non-profit campaign and all proceeds raised after the cost of the trip will go to Africa-facing nominated charities.

To get involved, support or sponsor the project, email info@thegreatfruitadventure.com or visit www.thegreatfruitadventure.com.