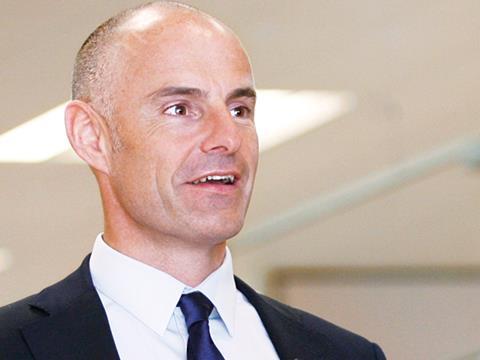 Let's hope Asda – and Walmart – have now passed a 'nadir' in their public handling of the long-anticipated succession plan.
After months of speculation, Andy Clarke's resignation was announced this morning, together with the appointment of his successor. And if it hardly came as a surprise that Andy Clarke was leaving, the choice of Sean Clarke as his successor - and not Roger Burnley - most certainly was.
Resignations are always awkward affairs, but this one is doubly so for the confusion that seems to have surrounded it, with Andy Clarke himself clearly unaware as recently as last week of the succession plans.
"There are never any promises in life, but Roger's a great leader," Clarke had told Retail Week at the Walmart shareholder gathering just a week or so ago. "He's going to be a great colleague and I look forward to spending time with him and preparing him for what hopefully should be his next role."
But the whole affair hasn't exactly done Burnley done any favours either. Hailed as a CEO in waiting, he will now have question marks hanging over his head as to why, after all, the top job went elsewhere. Indeed rumours have been circulating about the appointment of Sean Clarke within Walmart for several months, as The Grocer reported last week.
Walmart International boss David Cheesewright did his best to reassure Burnley. "I'm also excited about Roger coming back to Asda, as we view him as a top talent and a future CEO," he said in the official announcement, while also talking of the importance of the "complementary skills" and "combined expertise in the UK retail market" of the new men at the helm.
But poor Burnley, having clearly been promised this elevation by Andy Clarke, has not even set foot in Asda House yet and he's been looked over. And at the age of 50, one has to question how fit he will be by the time Walmart considers him suitable for a CEO role.
In the statement Burnley was quoted as saying: "Asda is a business I know well, and one I'm excited to rejoin at a critical time in its history. I've always admired Asda's passionate colleagues, relentless focus on the customer and its ability to reposition itself in a crowded marketplace. Being part of the world's largest retailer also presents a huge personal opportunity to work alongside world-class talent, including Sean. I'm looking forward to getting started."
It will be interesting to see if he means this.
However, it's clear that Cheesewright was not prepared to wait till October to take action. Indeed, if he had succeeded Andy Clarke, Burnley's first task would have been to appoint a new COO to replace him, and with the search for Burnley itself lasting 20 months – a search that has coincided with Asda's sales spiralling into freefall – the decision was taken out of his hands, with Walmart choosing to strengthen from within.
Together, says Cheesewright, "Sean and Roger will serve as an incredibly powerful team to lead our Asda business. Their complementary skills and combined expertise in the U.K. retail market and globally brings an unrivaled breadth of retail knowledge to Asda."
It's not just Burnley's role that is called into question, however. It will be fascinating to see if the new leadership sticks to the blueprint or, as is often the case with any new broom, the UK is given even more new directions.
Yet following Cheesewright's potentially game-changing admission that it has been overly protective of profit margins at the expense of UK customers, it's clear that a new direction has already been set.
As analysis by The Grocer this week sets out, there are clear - albeit multiple - barriers facing Asda if it is to get its fortunes back on track. But the mountains are climbable and, as Asda sources have pointed out for months, the crisis is nowhere near as deep as the one Tesco found itself in 18 months ago.
To do the same, Asda will require strong, united management at the very top and a crystal clear strategy not just for the benefit of the media but for the staff on the front line, who ultimately are the ones it will need to get the job done.