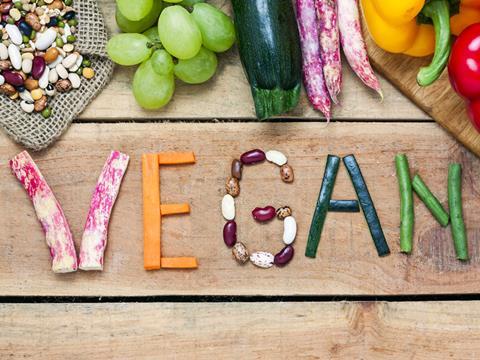 Just under 600,000 people around the world attempted to follow a plant-based diet during this year's Veganuary, helping the organisation enjoy its "biggest year yet".
Veganuary said a total of 582,538 people signed up for the event this year in 209 countries and territories, compared to about 400,000 last year, and far exceeding its target of 500,000 signups for 2021.
Among the hundreds of new plant-based products to hit the market last month, it singled out the performance of Leon's new Vegan Sweet Carolina BBQ Burger's – which became the chain's bestselling burger – as a standout performer.
The selling of one of M&S's No Salt Beef Pretzel Roll every 30 seconds also gained praise, and Pret's new Meatless Meatball Hot Wrap was the first new product to become a top-five bestseller in launch week in Pret's history, Veganuary said, as it hailed the sales of myriad vegan products "exceeding all expectations".
Elsewhere, Elena Devis, senior commercial manager at Deliveroo, confirmed the delivery service had also seen "a huge increase in demand for vegan food and thousands of new customers looking for it". Order volume from vegan restaurants was up 146% and vegan options from other restaurants up 114% year on year, while new customers purchasing vegan were up 163% year on year.
Brands such as Meatless Farm also enjoyed a Veganuary bounce, with MD Michael Hunter describing an "incredible month" that helped year-on-year sales jump 111%. "This has really set the tone for 2021 and we're looking forward to an even bigger Veganuary next year," he said.
Meanwhile, Squeaky Bean launched several new plant-based meat alternatives this January which were a huge success. According to Simon Day, marketing manager at distributor Winterbotham Darby: "Squeaky Bean sales are up 222% so far versus Veganuary 2020, and it has been heartening to see the growth of the plant-based category as a whole."
The event was also notable for the more than 40 companies – including PWC, EY, Bloomberg, Nestlé, M&S and Quorn – who took part in the Veganuary Workplace Challenge, encouraging their employees to try vegan in January and providing more vegan options in the workplace.
Reflecting on the 2021 campaign, Veganuary's Head of Communications Toni Vernelli said: "We expected Veganuary 2021 to be the biggest yet, but it exceeded all of our expectations.
"We applaud everyone who took part and encourage them to continue eating vegan food as often as possible. And we're grateful to all of the businesses embracing Veganuary and making it easier for more people to eat more plant-based food more often. Together we are making an enormous difference for animals, the planet and human health."