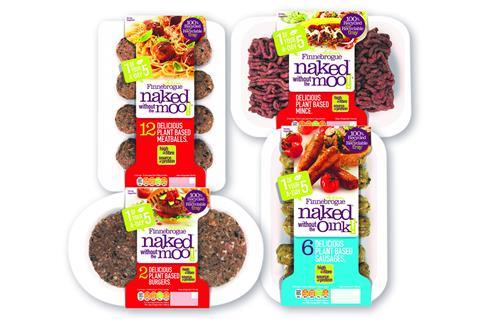 Northern Ireland-based sausage and bacon supplier Finnebrogue Artisan has expanded its nitrite-free Naked meat brand with a move into plant-based.

Finnebrogue this week launched Naked "made without the moo" burgers, meatballs and mince, alongside Naked "made without the oink" sausages into Waitrose (rsp: £3.29 each, launching at £2.63).

While 'Naked' was used to signify its meat range's lack of nitrites, Finnebrogue's use of the term on its new products referred to their more general use of natural ingredients that were "good for you and good for the planet", it said.

Targeted at the nation's growing flexitarian market, the four products - made from white and oyster mushrooms - were Britain's first plant-based meat alternatives that counted towards shoppers' 5 a day, were high in fibre, a source of protein and allergen-free, the supplier claimed.

The NPD also marked Finnebrogue's first major branded move into plant-based, said a spokesman.

It follows the manufacture of meat-free own label sausages and burgers at its County Down HQ, and a limited launch of Finnebrogue-branded plant-based products in Northern Irish retailers last year - made at a new, £3m dedicated plant-based facility.

"We believe in producing gorgeous food which is good for you and for the planet," said Finnebrogue chairman Denis Lynn. "That's why we made bacon without nitrites or any other nasties - and why we decided to look at what was wrong with veggie food to see how we could make it the best it could be - without being bound by the way that it's always been done."
The new range was "packed with flavour and succulence and provided the no-compromise alternative to meat that so many millions of flexitarians have been crying out for", Lynn added. It will be supported by out-of-home ads at 100 Waitrose sites in England and a summer print campaign.

Finnebrogue also launched its first TV ad campaign this week to promote Naked bacon, with TV spots due to appear on Channel 4 for the next three weeks.

It said the Naked brand had helped "turbo-charge" its growth since launching in 2018, with turnover expected to be £120 million in 2020, up from £75 million two years ago.