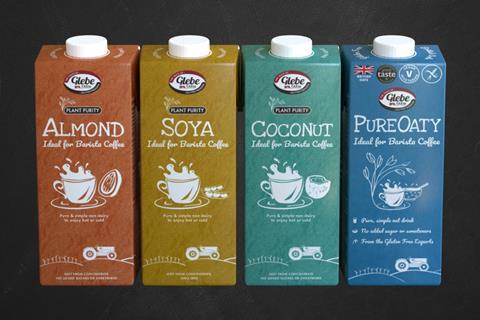 Glebe Farm Foods has extended its dairy-free drink offering to include almond, coconut and soya variants.
The new gluten-free products (rsp: £1.69/litre) promised a creamy texture and created coffees which did not split or curdle, Glebe said. They are also said to work as ingredients for use in dairy-free sauces or baking mixes.
Negotiations with retailers over listings were said to be ongoing, with Glebe aiming to emulate the success of its existing oat drink PureOaty – available in Co-op, Holland & Barrett and on Amazon.
"Following the successful launch of PureOaty in 2019, we had numerous requests from our customers to expand our range. The addition of almond, coconut and soya was a natural choice for us, and we are confident that all live up to the quality and performance of our original PureOaty," said joint-MD at Glebe Farm, Rebecca Rayner.
"Almond, Soya and Coconut drinks cater to the growing percentage of consumers on the look-out for new dairy-free alternatives as the popularity of flexitarian diets continue to rise."
The launch marks a departure from the Cambridgeshire-based firm's current specialism in locally sourced gluten-free oat products. It said the ingredients required for the NPD would come from outside of the UK though "trusted suppliers".
Glebe has invested heavily in PureOaty since its launch.
In October 2020, it announced the completion of a multimillion-pound extension at its HQ that increased production capacity to 50,000 litres-per-day and improved the drink's sustainability credentials by using renewable energy sources.