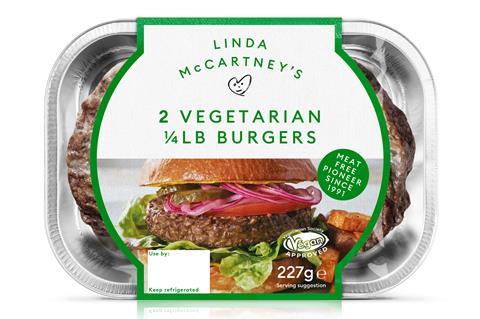 Linda McCartney's has expanded its range of vegetarian meat alternatives with four new soya protein-based lines designed to capitalise on barbecues, outdoor dining and post-lockdown family gatherings.
The brand, which will mark its 30th birthday in May, is launching a frozen vegetarian chicken roast, frozen and chilled vegetarian chicken pieces and a chilled vegetarian 1/4lb burger SKU.
The rosemary and soya protein-based roast went on sale at the end of March in Ocado (rsp: £3.50), and will roll into Waitrose and Tesco on 17 May, followed by Morrisons on 24 May.
The brand's frozen vegetarian chicken pieces (rsp: £2.20) will accompany the roast's rollout in the same retailers.
Meanwhile, its chilled variant (rsp: £2.79) alongside Linda McCartney's seasoned soya protein and onion burger (rsp: £2.79), will go on sale in Sainsbury's from 21 April.
The brand said the new burger was a chilled offering of the "much-loved" 1/4lb burger it sells in the frozen aisles, which was in the top two for the category.
"With our 30th year anniversary celebrations on the horizon we're thrilled to witness the increasing demand for vegan and vegetarian food," said Linda McCartney's MD Nadine Maggi.
"It's so heartening to see the number of people looking to reduce their meat consumption continue to rise," she added. "We believe that Linda McCartney's is well placed to capitalise on this opportunity."
The NPD were "full of flavour, versatile, and we hope they will become a firm favourite when reconnecting with friends and family throughout the summer and beyond", she said.