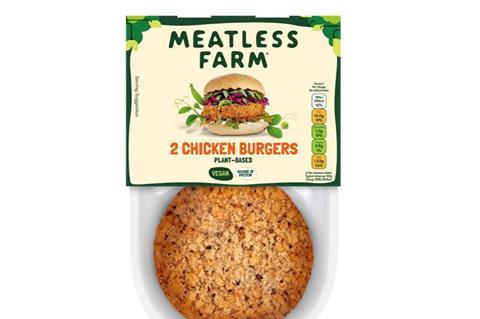 Plant-based brand Meatless Farm has agreed it will not repeat two Facebook adverts after a complaint was made to the Advertising Standards Authority suggesting it had breached rules on health claims.
The first of the two adverts, which espoused the benefits of a plant-based diet and ran in October, featured a firefighter called Jur, next to a claim he was "stronger, both mentally and physically" and put his "good health down to his plant-based diet".
Copy claiming a nurse called Anne had "improved her mental and physical health" by going plant-based, alongside text stating it was "no longer a secret that a plant-based diet has a positive influence on your wellbeing" accompanied the second ad.
In its complaint to the ASA, AHDB argued the ads did not comply with advertising codes, specifically good health assertions that must be supported by authorised health claims or made by a national medical or nutrition body, or health charity.
The regulator subsequently reviewed the case, which was informally resolved when Meatless Farm agreed to amend the adverts and confirmed they would not appear again in their original form.
"Our rules state that claims which refer to the general benefits of a nutrient or food for overall good health or health-related wellbeing ('general' health claims) are only acceptable if accompanied by a relevant authorised health claim," an ASA spokesman said.
"Meatless Farm agreed to amend the ads to remove the general health claims. As such, we considered the matter resolved."
A spokeswoman for the plant-based brand described the campaign as small and said it had featured a "variety of people in demanding jobs".
"The nurse featured was a real nurse giving her own personal experience of eating plant-based alternatives, backed up with the findings of a published randomised controlled scientific study," she said.
The spokeswoman added the ads had "already come to the end" of their planned live run date prior to the AHDB complaint "so we didn't need to make any changes to scheduled activity".
She added: "Our quest at Meatless Farm is to make it easier and tastier for people to reduce their meat consumption for the demonstrable benefits of the planet and their health, so we will continue to share all of the inspiring evidence and information that supports that ambition."
AHDB head of media and PR Phil Maiden said advertising rules "are there to ensure fairness and transparency for consumers, in which AHDB takes an enormous amount of time and effort to ensure compliance".
This proved "invaluable following the 500 complaints made against our own We Eat Balanced TV advert earlier this year", he added.
"This most recent result is excellent for AHDB and our levy payers, who by all accounts really value the work we do in this area. We continually work to challenge misinformation in the media and advertising, as well as working with the media to encourage balanced reporting and the use of UK based facts and data."