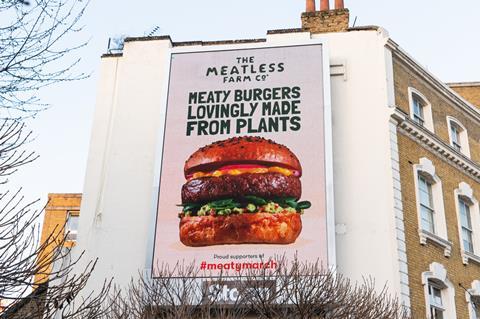 Plant-based brand The Meatless Farm Co has launched a major ad push designed to "hijack" pro-meat campaign #meatymarch.

The brand said its "mischievous move" to appropriate the grassroots Meaty March campaign would "draw attention to the meaty taste and texture credentials of plant-based alternatives".

It consists of PR, experiential, outdoor ads and social media activity, with the creative showing Meatless Farm's burger with the caption 'Meaty burgers lovingly made from plants' and 'Proud Supporters of #meatymarch'.

The ads include digital billboards across London, Birmingham and Glasgow. An "undercover" burger van also hit the streets of London this week with its own 'beefy boys' offering plant-based burgers to unwitting passers-by.

"We're a next generation meat alternative and our products use plants to deliver the same sensory experience as meat," said Meatless Farm Co founder Morten Toft Bech. "This means that in essence we support the nature of #meatymarch, which is people enjoying meatiness."

The campaign was "about us demonstrating our taste and texture credentials, the biggest barriers to people going meat-free, in a way that's packed full of our plant-powered personality", he added.
"We want to show people just how tasty and meaty plant-based food can be - and it's not necessarily about being vegan or vegetarian, we make it easy for people to swap, even if it's once or twice a week. We aren't against meat or farming, we just recognise that there needs to be a better balance."

It comes as a survey of 2,000 UK adults on behalf of the brand in December revealed that 54% of consumers were increasing the amount of plant-based food they were eating, up 12% since 2018.

The brand also partnered with Asian-inspired food brand Itsu this week to launch a new meatless meatball rice bowl in Itsu restaurants, featuring what it is describing as "the UK's first vegan Asian meatballs".

The bespoke creation for Itsu is available at an introductory price of £5.99.

The partnership with Meatless Farm demonstrated how Itsu was "pioneering a brighter future for fast food, providing credible plant-based options that are healthy, conveneint and flavoursome", said Itsu group brand and marketing director Jemima Ferguson.

"We are thrilled to be bringing the first plant-based Asian meatballs to the UK market as part of our mission to give new and exciting vegan options to the masses."