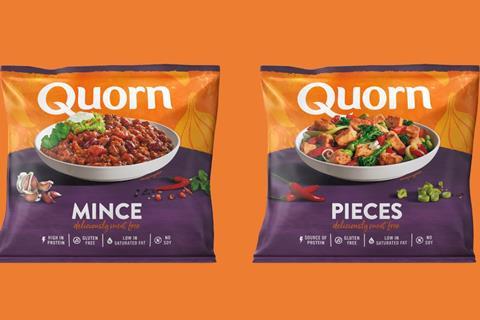 Quorn has unveiled a new, multimillion-pound marketing push for 2021, designed to encourage shoppers to lower their carbon footprint by reducing their meat intake.
The meat-free giant's 'Helping the Planet One Bite at a Time' campaign will launch on Thursday, with VOD, social media, PR out-of-home and in-store activity. It will build on the brand's partnership with Liverpool FC by encouraging fans to go meat-free on match days.
Kicking things off is a new video where Liverpool captain Jordan Henderson, alongside players Alex Oxlade-Chamberlain and Xherdan Shaqiri, discuss their own eating habits and the benefits of going meat-free.
The brand is also launching a new TV ad, which will push its environmental credentials and use the tagline 'More to Life than Meat' – which will debut during ITV's The Masked Singer this Saturday (16 January). Quorn is also rolling out a new pack design by moving the brand name "to give space to hero the food", it said.
A brighter design also aimed to "dial up the variant name and on-pack claims to aid shopability", the brand added, with Quorn products now grouped into three colourful pillars based on needs and occasion.
Quorn's 'Comforting Fillers', such as mince, have been highlighted with a warm purple pack design; its "more adventurous products", including mozzarella & pesto escalopes, will feature a teal colour and sit within the brand's 'Creative Adventure' pack range; while its 'Light & Convenient' products, including vegan smoky ham slices, will now feature a bold green design.
The packaging revamp, which will roll out across the Quorn range over the course of this year, would make it easier for shoppers to find their favourites", a spokeswoman said. The brand's display of the carbon footprint of its products would continue, she added.
"It's now or never – we must all play our part in the change our planet and future needs," said marketing director Gill Riley. "Society is very aware of the climate issues we currently face as a planet, but now is the time to act. Every year is pivotal to our hopes of addressing the crisis before it's too late and, in 2021, we encourage everyone to stand up and be counted for the future of both our people and planet."
She added: "2021 is the time for Quorn. We want to kick-start a movement, change behaviour and be the food for our future. We'll be creating a rallying cry to make people feel part of a collective change for good and encouraging them to join Quorn by helping the planet one bite at a time."