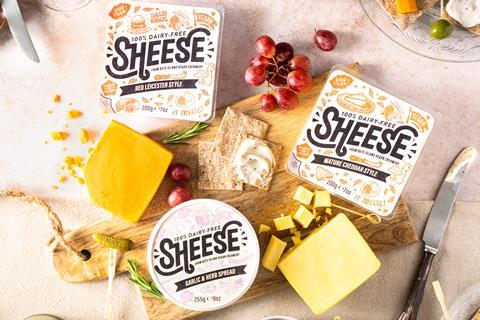 Vegan cheese brand Sheese is splashing over half a million pounds on a new look, new flavours and a marketing push in a bid to lure a wider range of shoppers to cheese alternatives.
The brand – whose products are made with coconut oil in place of dairy – has completely overhauled its packaging, and added two new flavours: Haloumi and Jalapeno & Chilli slices.
Despite the growth in overall vegan and plant-based products, said the brand, plant-based cheeses were "under-served" despite "broad appeal".
"Consumers who are making the switch to plant-based – whether vegan or flexitarian – tell us they want greater choice, but with more emphasis on quality rather than just quantity, not only in terms of taste and texture but also on having 'clean' ingredients that deliver from on health," said marketing director Nigel White.
"Currently there is little premium element to the UK dairy-free cheese fixture, presenting a huge opportunity for retailers as well as brands."
Sheese is planning to support the rebrand over coming months with a major marketing push, spanning press and digital media, brand sponsorships, PR and product placement.