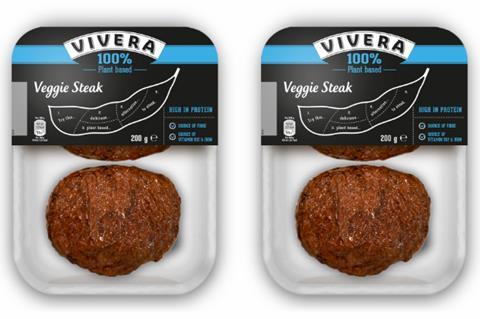 Tesco has created a new fixture in its meat aisles to stock vegan alternatives, in a bid to capitalise on what it called "the biggest food trend of the decade".
Vivera, Beyond Meat, Heck and The Vegetarian Butcher will be among brands repositioned in the new chiller from today (8 April).
The move builds on Tesco's positioning of the Beyond Burger alongside beefburgers in chillers across some of its estate since launching last November.
Tesco said it believed "the single biggest impact" it could have in the promotion of health and sustainability over the next decade was to encourage shoppers to increase their vegetable and plant-based meat alternative intake, while cutting down on meat.
It came in response to a booming shift of consumers turning towards a flexitarian, vegetarian or vegan diet, with 150 million more meat-free dinners sold in January 2019 in comparison with the previous year [Kantar]. Meanwhile, non-vegans consumed the vast majority (92%) of plant-based suppers [Kantar Insights 2018].
"The rise of eating more plant-based food and people becoming flexitarian is having a massive effect on the way many people shop and as a result the retail industry is having to adapt," said Tesco's director of plant-based innovation, Derek Sarno.
"We are seeing a new kind of shopper – more conscious of their own health and the environment and perfectly happy to make dietary changes such as becoming vegan, vegetarian or flexitarian to achieve those aims."
It follows the example of Sainsbury's, which began merchandising a range of 26 branded and own label meat-free SKUs in its meat aisles in January.
"Plant-based alternatives in general have become so high in quality that most life-long meat eaters are now including these foods as part of their diet," added Sarno. "It makes sense to range them next to each other in the same aisle and bring a wider breadth of options available to choose from."