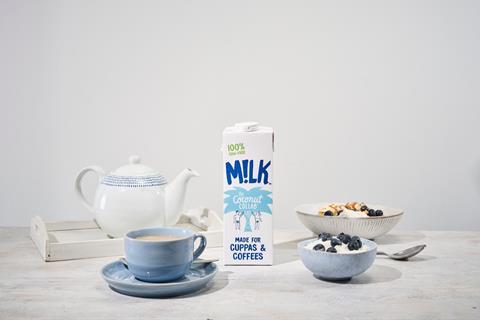 The Coconut Collab has launched a new barista-style milk alternative designed to look, taste and behave like its dairy counterparts.
The brand's NPD, named M!lk (rsp:£2.35) will initially launch through Ocado and is made using ethically-farmed coconuts which are naturally low in sugar and high in minerals, electrolytes, and healthy fats.
The brand claimed it froths "fantastically" , doesn't split when warmed and won't alter the taste profile of whatever it is added to.
"We know one in three Brits are drinking plant-based milk, however we also know almost every variant currently available on supermarket shelves influences the taste profile of the end product – whether this is a cup of tea or a bowl of cereal," said James Averdieck, founder of The Coconut Collab.
"That is until now, with M!lk offering our customers an unrivalled and uncompromising plant-based milk alternative that we can't wait for them to try."
The new drink joins the brand's range of coconut-based yoghurt alternatives, desserts, creams and custards.
It follows the recent appointment of Anna Dominey to the role of MD.
She joined the business from Remedy Drinks where she was UK general manager, responsible for growing the business from its infancy.
"The Coconut Collab has a loyal and growing customer base, and a renowned reputation for its delicious, thick and creamy coconut-based range that offers an unparalleled alternative to dairy," said Dominey.
"There is huge headroom for growth. Research tells us a quarter of all British people will be vegetarian by 2025, while half of us will identify as flexitarians."