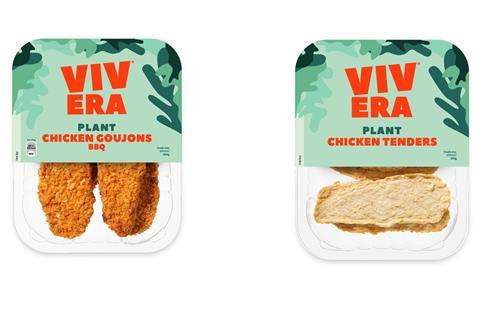 Plant-based brand Vivera has relaunched its entire product range with "striking" new packaging and two new SKUs.
Rolling into supermarkets this week, the new packaging features a colourful cardboard sleeve emblazoned with a large orange Vivera logo, which the company hopes will attract more people to become flexitarian.
The Dutch company has also expanded its range to 15 SKUs with the addition of barbecue-flavoured Plant Chicken Goujons and Plant Chicken Tenders (both rsp: £2.50 per pack). The brand has featured on the UK market since 2017 and currently has listings with all the major mults.
Vivera's CEO Willem van Weede said the relaunch was the latest instalment of a "goodness revolution", which has seen the brand encourage consumers to "make a big or small contribution to improving this world by eating less meat".
"We have decided that along with extension of our range, we should be more explicit on what it is our range is and what it is that our consumers are trying to get out of it for themselves and for the world by consuming our products.
"The people are the heroes and we are the facilitators. We can explain how easy it is to make that step [towards a plant-based diet]. It just depends how radical participants in the revolution want to be.
"It's more of a velvety revolution than a very radical Lech Walesa one. It's positive, it's inviting, it's creating opportunity. The enabler is great taste and a range of unique products."
Having sold off its meat operation earlier this year in order to focus on plant-based, van Weede added that Vivera wanted to become a "front-runner" in the category and would be seeking to partner with retailers to close the "big gap" between attitudes to plant-based foods and what he termed as "average behaviour".
"I'm sure flexitarianism is a development that will continue to take place for a very long time. It'll stretch over decades for meat eating to be comparable to smoking," he added.