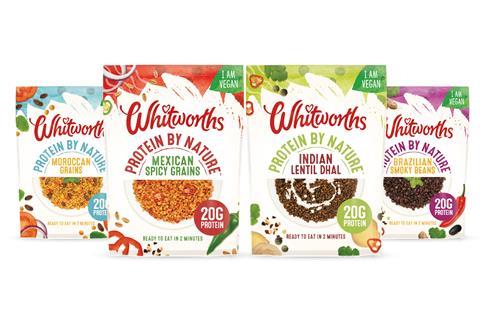 Dried fruit and nut brand Whitworths is eyeing the protein market with a new range of microwavable beans, grains and pulses.
The range, called Protein By Nature, is "internationally inspired", said Whitworths, and is made up of four SKUs.
They are: Brazilian Smoky Beans, Moroccan Grains, Indian Lentil Dhal and Mexican Spicy Grains.
Whitworths commercial director Phil Gowland billed the range "a nutrient powerhouse", with each 250g pack containing 20g plant protein, provided by ingredients such as pinto beans, quinoa, lentils and wheatberries.
The range is suitable for vegans and offers a complete protein source, containing all nine essential amino acids.
Whitworths said it "acknowledged a growing interest in clean and natural sources of protein" and that there was "no sign that protein appeal will be slowing down any time soon".
The range will hit Morrisons from 2 November, followed by Tesco from 9 November (rsp: £2/250g).