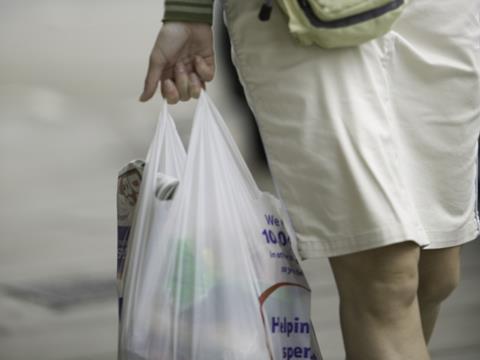 More than a fifth of under-35s will 'suck up' the new 5p plastic bag charges in England while the over-55s are more prepared to use their own bags.
This is according to a new survey from consultancy Future Thinking, which comes less than a week before a new law will oblige supermarkets to charge for plastic carrier bags.
The Future Thinking survey of 2,180 shoppers in England revealed 22% of under-35s were prepared to pay 5p per plastic bag in the future, with just over half (53%) saying they will take their own bags to the supermarket.
The remaining quarter were left unaware of the upcoming change all together, according to the consultancy firm's report.
The 55-plus age group are the most likely age group to use their own bags with 79% saying they will do so. Overall, 15% of consumers said they will pay for and continue to use plastic carrier bags.
Noreen Kinsey, head of shopper Insights, said: "It will be interesting to see how many of the 8.5bn plastic bags used annually we can cut out of our lives with the new 5p charge.
"Although many individuals are already used to using their own bags, many, particularly younger adults, will need to change their shopping habits. It seems some are prepared to suck up the charges, but it's encouraging that the majority are welcoming the move towards greater sustainability."
A similar 5p plastic bag surcharge was introduced in Wales in 2011. As in Wales, all proceeds of the surcharge in England will be donated to charity.
If retailers fail to charge 5p per bag or fail to keep accurate records, each company can be fined up to £5,000 by its local authority. Local Authorities can also make companies publicise their breach.