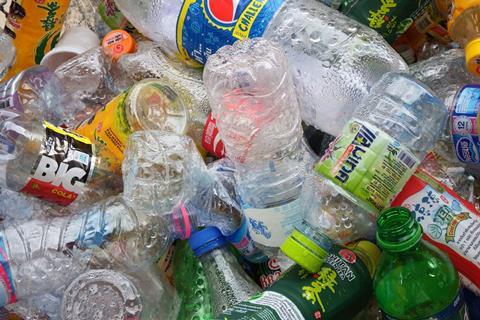 A 5p levy on water bottles could slash the UK's use by up to 1.4 billion bottles a year, according to a new survey.
The survey, by Brita UK, claims 41% of the 2,000 adults it questioned in August said a 5p levy on single-use plastic bottles would discourage them from purchasing bottled water.
It claims the levy on single-use plastic bags, which saw a 98% reduction in use, could be used as a model for reducing the use of single-use plastic bottles.
Plastic bag use fell by more than 98% after the introduction of a levy, leading to calls for a similar charge on other plastic items.
"We've seen how effective the 5p levy on plastic bags was in cutting down waste, so now we urgently need to consider innovative ways of cutting down pollution caused by single use plastic bottles," said Brita UK MD David Hall.
"They are unnecessary and highly damaging to our environment, taking just five seconds to make, five minutes to use, and 500 years to break down in landfill.
"Our research has shown there's huge appetite to move away from plastic bottles, and towards a refill culture, so it's time the government started to put the policies and infrastructure in place to make it possible."