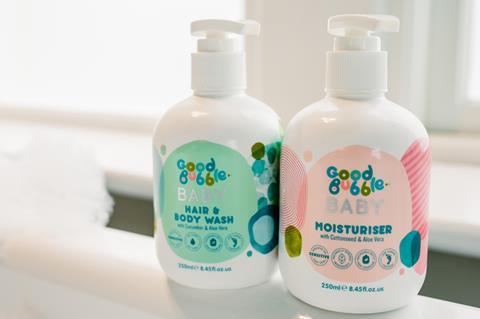 Plant-based baby skincare brand Good Bubble is to roll out two new lines in a bio-plastic pack.
Hair & Body Wash with Cucumber & Aloe Vera and Moisturiser with Cottonseed & Aloe Vera (rsp: £4/250ml) will be available from 10 June in Boots. Suitable for newborns, they come in a pump-bottle derived from sugarcane.
The fully recyclable material would "offer families a lower carbon alternative to standard plastic" said Good Bubble. "Unlike the production of standard carbon-based plastic – which is derived from fossil fuels and a known contributor to global warming – as sugarcane is grown it actively captures carbon from the atmosphere to alleviate the impact of climate change."
This is the latest of Good Bubble's moves towards more sustainable business practices in an effort to cut its carbon footprint in half by 2020. Last December, the Manchester brand – which in 2015 secured a £60,000 investment from Deborah Meaden on Dragons' Den – switched to 50% post-consumer recycled plastic across its portfolio.
Plastics were "hard to avoid in the bathroom because they do a good job of safely containing and protecting liquid toiletries" said Good Bubble founder Amy Wordsworth. "It is our responsibility to use this material responsibly and try to reduce our impact on the environment wherever possible."