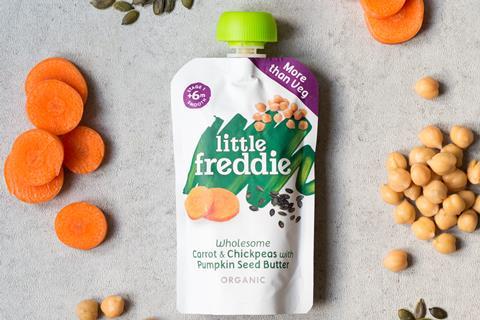 Babyfood maker Little Freddie has teamed up with Sainsbury's for what it claims is the UK's first all-brand babyfood pouch recycling scheme.

It will see Little Freddie's pouch recycling bags sold on-shelf in Sainsbury's for 99p.

Shoppers take the bags home and, once their children are fed - with babyfood from any brand - they will be able to post them free of charge to recycling specialist Enval.

Little Freddie will also have shippers in 91 stores to raise awareness of the scheme.

At Enval's base, the pouches will be recycled into materials such as aluminium and returned to circulation.

Little Freddie said producing aluminium with Enval's process had a 72% smaller carbon footprint than producing the material from mined ore, adding that disposing of babyfood pouches in this way had a 90% smaller carbon footprint than other current methods.

Sainsbury's baby feeding buyer James Heseltine said it was "so encouraging to see a challenger brand lead the way in sustainability and include a market-wide approach to recycling issues that are so ­prevalent in the babyfood industry in particular".

The category is notorious for its use of plastic, as there are few alternatives that lend themselves equally to food safety and convenience.

Pouches are the only format with which babies can feed themselves - unlike glass jars, for instance.

The news comes as Little Freddie recycled its 500,000th pouch in September this year.