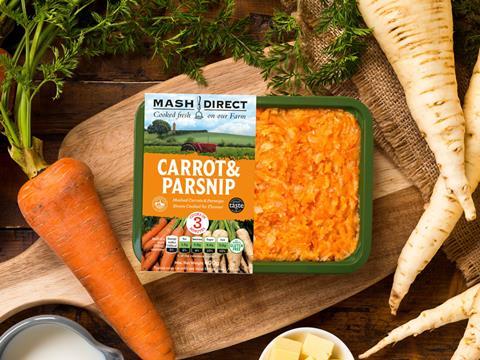 Prepared veg brand Mash Direct has pledged to swap out difficult-to-recycle black plastic in favour of widely recyclable green trays.
The Northern Ireland-based supplier has set a March deadline to phase out black plastic from its supply chain, in a move to eliminate more than 240 tonnes of single-use packaging each year.
Currently, almost two thirds of products in the Mash Direct range is packaged in black plastic, while the majority of the remainder comes in foil trays.
"Black plastic cannot be sorted by the optical sorting systems used in plastics recycling and as a result, commonly ends up as residue and is disposed of in landfill," said a Mash Direct spokeswoman. "By moving to fully recyclable trays we are improving Mash Direct's environmental footprint as well as contributing to the long-term health and prosperity of the food and drink sector."
The brand has also extended its commitment to going palm oil-free, banning the use of the controversial oil in any upcoming NPD. It follows Mash Direct's reformulation to remove palm oil from its products last year, following a public outcry over deforestation caused by the palm oil industry.
"With a new year, what better time to start thinking about the healthier option for the planet?" said chief operating officer Jack Hamilton.
It comes after the brand claimed a UK first with the launch of its dairy-free mashed potato last year. Mash Direct is set to roll out its vegan-friendly mashed potato and mashed carrot & swede side dishes by July.
The vegan mashed potato variant contains olive pomace oil, salt and black pepper, as an alternative to its original SKU, which is made with milk and butter.