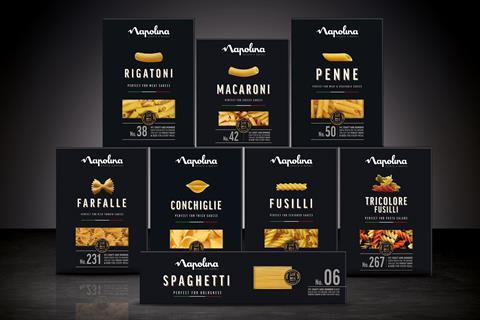 Napolina has ramped up efforts to cut plastic waste, by rolling out 100% cardboard packs across its most popular pasta lines.
The move would help the brand remove 200 tonnes of plastic from the UK waste stream each year, it said.
It will see the brand's core pasta range – including Spaghetti, Penne, Fusilli and Rigatoni – switch to 100% cardboard boxes.
In spite of the overhaul, there was no change to the products' shelf life, Napolina said. Rsps and promotional activity are also not affected, it confirmed.
The transition to the new packs – featuring photography resembling a plastic film window – has already begun and will continue in July.
It comes as part of wider efforts by Napolina to make its packaging more sustainable.
It unveiled plans in late 2019 to put its added value pasta lines, such as 50%50 Fusilli and Bronze Die Penne Rigate, into "fully coated folding boxboard" made by sustainable packaging supplier Tambrite.
Their rollout had so far eliminated 16 tonnes of plastic, Napolina said.
In 2018, brand moved to 51% rPET bottles across its olive oil range. That was followed last year by a switch of the oils' black plastic caps to gold ones, making them more easily identified by plastic sorting machines at recycling centres.
Consumers were "increasingly looking for products which are easily recyclable" said Napolina commercial director Neil Brownbill.
"Italian cuisine is worth £8.1bn and remains the most popular cuisine in the UK, but we are aware that with this huge consumer demand comes a responsibility to meet environmental expectations."
It follows a bumper year for Napolina. It added £30m in grocery [Kantar 52 w/e 24 January 2021] as locked-down Brits cooked more meals at home and recreated their favourite Italian restaurant dishes.