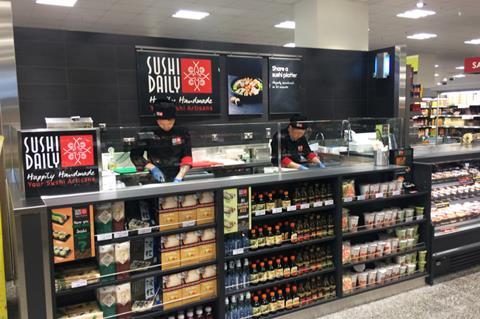 Sushi Daily is ditching its black plastic trays for 100% recycled and recyclable new packs.
The brand has called time on the black plastic trays the sushi category is known for, and will be replacing them with blue trays and lids created with an unnamed Surrey-based supplier, following two years of development. Retail prices will not change with the move.
The new trays are detectable by near infrared light, so recyling plants can spot they are plastic and sort them for recycling.
They will initially roll out to the brand's 90 Waitrose counters across the UK, with the rest of its counters across Europe to follow.
Sushi Daily is also trialling a 'bring your own' scheme, through which shoppers can take sushi home in their own containers. It plans to extend the trial in 2020.
"As a company we wanted to demonstrate our true commitment towards a more sustainable future," said Celine Ricord, global corporate responsibility manager at Sushi Daily owner KellyDeli.
"In conjunction with waste management experts, we have decided to opt for fully recycled and recyclable plastic, as opposed to other packaging that is more difficult to recycle (multi-layered cardboard or compostable)."