Plastic is a tricky one. Prior to 2020, it was widely considered the scourge of the environment. But when Covid hit and public health rocketed up the agenda, single-use plastic became something of a necessity, setting back many consumers' efforts to cut down on the stuff.

These entrepreneurs believe there is no need for so much plastic in the supply chain, and have taken it upon themselves to prove it by putting their money where their mouth is and setting up businesses dedicated to eliminating single-use plastic from shopping.
Tis the Future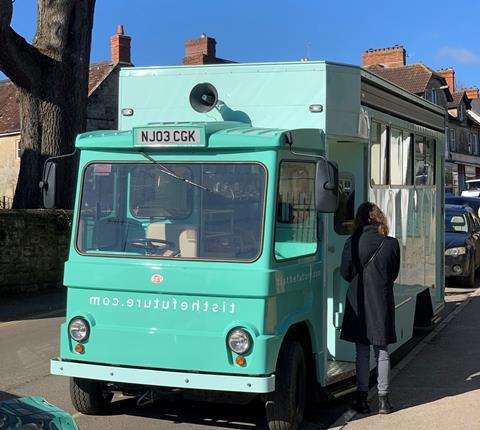 Electric refill truck Tis the Future travels around the village of Tisbury, Wiltshire, and surrounding areas allowing local residents to restock their cupboards from its on-board supply cupboard.
In a past life, the truck that is now Tis the Future was a council refuse truck, so the effort to refit it was extensive. Plans to set up the mobile store have been underway for a couple of years, hindered by the pandemic before it finally took to the streets in March 2021.
"Tis the Future was inspired by pre-supermarket and online ordering shopping methods, whereby the grocer or the butcher or the fishmonger would visit villages on different days of the week," says Tis the Future business manager Henrietta Moore.
"It is also similar to the mobile library model where customers get on to do their shopping. These things were all a big part of community life and we wanted to reinstate this. It also means less people need to get in their cars to do their shopping, which goes a little way towards reducing carbon emissions."
The enterprise began as a community-funded effort, seeing locals contribute to the initial purchase and subsequent refurbishment of the electric van. "The minimum investment level was £25 as we felt it was really important people could be part of this exciting project at quite a low cost level," adds Moore.
Tis the Future is now owned by the Members of the Tisbury Community Benefit Society, who elect the members of a management committee. This committee – all of whom are volunteers – oversees the running of the business. Each investor has one vote in how the business is run, no matter how much they have invested.
Moore says the push for plastic-free and sustainable living, as well as community-based projects, is booming, while the pandemic has given the effort an extra boon, prompting consumers to think locally and buy in bulk. "Fundamentally, it's about getting people to change their ways of shopping – especially the older generations," she tells The Grocer.
"We have so many exciting plans for Tis the Future – in the short term looking at the stock we carry, as well as different methods of refilling – maybe introducing a jar depositary system, click & collect. We want to get the bus out to a lot more markets and one-off events like festivals, and in the long term some fantastic collaborations with local businesses that share the same ethical beliefs."
The Modern Milkman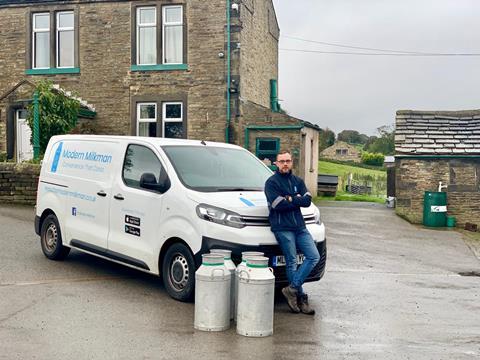 David Attenborough's 2018 call to action in an episode of Blue Planet II inspired this business. It began with "four friends and a beaten-up truck" say its founders, but has expanded to a network of milkmen supplied by local dairies. The Modern Milkman operates in the north of England and is actively promoting sustainability in its communities.
Pitching itself as "a milk round with a mission to reduce plastic waste", the Lancashire-based service delivers all its milk in reusable glass bottles, which it collects and returns to local dairies.
And it's not just milk available from The Modern Milkman – it offers dairy, eggs, soaps, cereals, coffee, tea and vegetable boxes. All the products come in plastic-free packaging where possible, "making sustainability convenient and achievable for everyone on our rounds" the company says.
What's more is it aims to have all of those goods on consumers' doorsteps by 7.30am after ordering online.
Good Club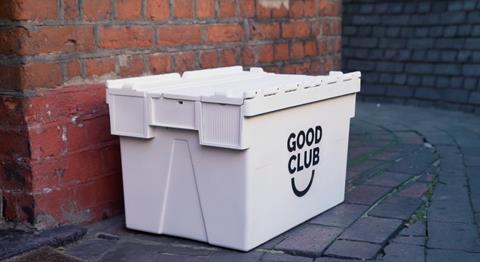 Members-only online grocer Good Club launched a closed-loop, zero-waste delivery service to take its offer fully circular.
More than 70 products are available in its range, which arrive in reusable and returnable packaging. The customer decants the products – which could include nuts, oats, seeds, grains, pastas or rice – into their own containers, and leaves the empties out for collection the following day. Good Club then washes and refills the empties and "the whole cycle starts again" it says.
Good Club claims the range – which will expand to 150 goods by the end of the month – is the world's biggest range of sustainable zero-waste staples, and the first retailer to offer next-day collection of empties.
"We'll never be filling up our customers' bins, unlike other services which deliver in paper bags and cardboard boxes, which need to be recycled and can only really be reused a handful of times. Our delivery crates will be used indefinitely. We think it's a simple solution to a complicated problem," says Ben Patten, co-founder of Good Club.
The items, individually packed in BPA-free plastic jars, arrive in a plastic tote secured with reusable zip ties. Empties are left in the tote on the customer's doorstep or can be dropped off at Hermes ParcelShops. Deliveries and collections are made by a carbon-neutral courier.
The zero-waste range is mainly made up of Good Club's own-brand products, but collaborations are underway with Fill, Rolla Granola, Joe's Tea, Homethings and Cru Kafe. Good Club says it only sells sustainably produced products.
Good Club was launched in 2018 by Patten, a former Farmdrop founder, and designer Danny Blackman.
Loop
A similar proposition to Good Club but in partnership with a major retailer, reusable packaging platform Loop launched in partnership with Tesco. The service allows customers to shop a range of products packaged in durable, refillable containers on a dedicated website and have them delivered to their homes in a reusable shipping tote bag.
Users pay a deposit fee on each piece of packaging. Once the products have been consumed, the containers are put back in the tote, and dropped off at one of 2,500 DPD collection points across the UK or picked up by Loop, either on request or at the next delivery.
Loop sorts and cleans the empty containers "to stringent health and safety standards" for reuse before they are refilled by suppliers.
"Cleaned and refilled products are simultaneously replenished as needed to the consumer, creating a convenient and safe zero-waste shopping system," Loop says.
Loop-listed products in reusable containers are also set to be available in dedicated aisles in Tesco stores.
Several major and emerging fmcg companies have signed up for their products to be listed on the Loop platform. Among them are Heinz Tomato Ketchup, Coca-Cola, Danone, Nivea, Persil, Molton Brown, Finish, Bulldog Skincare, Jackpot Peanut Butter and BrewDog.
Loop made its UK debut in June 2020, after being delayed by the Covid-19 pandemic. It is also available in France and the US, with plans to roll out in Canada, Germany and Japan.
Plastic Free July 2021: what it means for supermarkets and shoppers
1

2

Currently reading

The entrepreneurs and startups making plastic-free grocery shopping easy

3

4

5

6

7

8