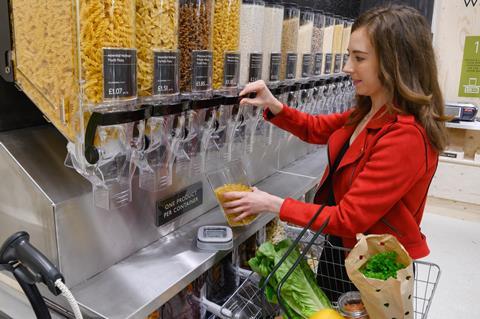 Sales of loose veg and refillables are on the rise at Waitrose, with the supermarket stocking up ahead of Christmas.
Waitrose said environmentally savvy shoppers were increasingly looking to buy loose produce rather than packaged.
The retailer has increased orders of its six bestselling loose vegetables for Christmas by 75% this year compared with 2018, following "significant" growth as sales of packaged equivalents fell.
Over the past 10 months, sales of loose broccoli are up 8% and sales of loose parsnips have risen by 6%, when a year ago they were in decline.
Loose carrots and loose red potatoes sales are up by 21% and 23% respectively in the past two months, and sales of loose sprouts are outperforming their packaged version by 5%.
"For the past 20 years the convenience of packaged produce has seen it outsell loose, but as consumers have become increasingly environmentally conscious and wanting to buy only what they need, we could be returning to how people used to shop with loose produce making a big comeback," said Waitrose fresh produce buyer Paul Bidwell.
"We know we have a lot of work still to do to encourage customers to buy more loose fruit and vegetables, but there are signs we are seeing a shift in customer behaviour and we want to build on that momentum."
Separately, Waitrose confirmed sales of refillables at its four 'Unpacked' shops – where it is currently testing taking a number of products out of their packaging, including pasta, lentils, cereals, frozen fruit, coffee, wine and beer – are outselling their packaged equivalents by 68%.
At its Botley Road shop in Oxford, where the concept originally launched in June, refillable essential Waitrose fusilli pasta and long grain rice are outselling their packaged versions by 37% and 78% respectively. Refillable porridge oats are also up 78%, red lentils are up by 62% and dried soft figs by almost 50%.
The Unpacked trail is also running in Cheltenham, Wallingford and Abingdon. The shops all have a dedicated refillable zone, which includes dispensers for dried products, frozen 'pick and mix', coffee, wine and beer refills, as well as detergent and washing-up liquid refillables.
As part of the overall commitment to make Waitrose own-brand packaging reusable, widely recyclable or home compostable by 2023, the retailer has also pledged to:
Reduce the amount of own-brand packaging, including plastics, by a third by 2023
Remove 20% of plastic from own-brand ranges by the end of 2021
Ensure branded and own-brand packaging contain at least 30% recycled content by 2021
Ban non-recyclable plastic from all branded and own-brand packaging by 2021