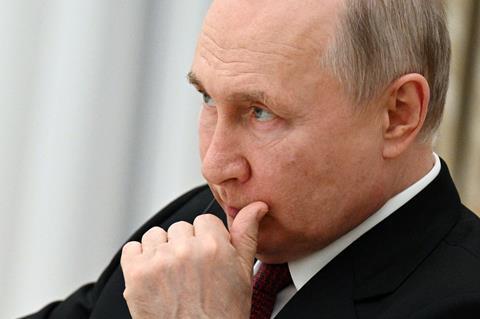 The UK has launched a new raft of sanctions targeting Russian companies and individuals linked to the systematic theft of Ukrainian grain.
After prime minister Rishi Sunak announced new import bans on Russian diamonds and metals at the G7 in Japan earlier this week, the government has introduced new measures to pressure "Putin's remaining revenue and attempts to use these sectors to support the military machine".
This included sanctions on individuals and entities linked to Russia's transport services with connections to the theft of Ukrainian grain from temporarily occupied territories – including Pawell Shipping Co LLP, the State Grain Corporation (GZO) and its director Nikita Busel.
The Department for Business & Trade said this grain, along other agricultural goods, had "reportedly been stolen from warehouses and fields in the temporarily occupied territories in Ukraine and shipped out from Zaporizhzhia – badged as Russian goods".
Foreign secretary James Cleverly said: "We are increasing the economic pressure on Putin – making it harder for him to wage his illegal war and inflict untold suffering on innocent Ukrainians.
"We will continue to increase this pressure and crack down on all emerging forms of circumvention until Ukraine prevails and peace is secured."
In total, 24 individuals and entities connected to Russia's transport services have been sanctioned.
This was the latest wave of financial punishments aimed at cracking down "on the shady individuals and entities connected to the theft and resale of Ukrainian grain, as well as targeting Russia's major energy and arms shipping companies", a government statement said.
Busel, head of the State Grain Corporation, had previously been named by the Financial Times as one of the Russian businessmen spearheading looting operations in the occupied region of Zaporizhzhia, one of the main grain producing and processing regions in Ukraine.
Before the war, Ukraine was one of the world's top grain exporters. The conflict sent global wheat markets into meltdown, resulting in food shortages and soaring prices.
The situation has recently stabilised due to the implementation of the Black Sea Grain Initiative, an agreement between Russia and Ukraine that was brokered by Turkey and the UN to ensure the safe transportation of grains and other agricultural goods out of three key Ukrainian ports in the Black Sea – Odesa, Chornomorsk and Pivdennyi.
Last week it was announced the initiative would be expanded for another two months, which reassured markets and contributed to a 0.6% decline in the global agricultural commodity index.