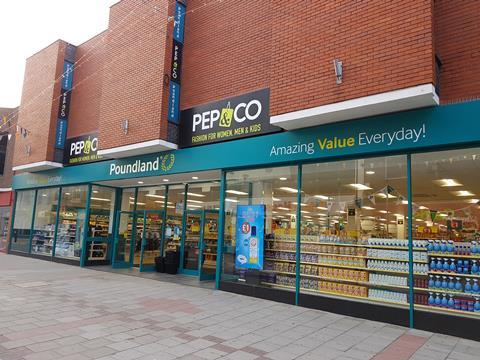 Poundland is introducing budget fashion ranges to even more stores with a new mini version of its Pep&Co 'shops in shops'.

The variety discounter already has Pep&Co shops in shops in more than 300 of its bigger stores, following a rollout last year. Now a more compact version, taking up a third of the space but still carrying a "wide Pep&Co fashion range", has arrived in smaller branches.

The mini shops in shops are being trialled from today in five stores, in Christchurch, Minehead, Margate, Swansea and Newport. Poundland plans to extend the concept to more stores if it proves successful.

It's in addition to a separate measure, which began earlier this year, of introducing three or four bays of Pep&Co "essentials" such as underwear across the 850-store estate. The new mini shops in shops have 30 bays, selling kids', women's and men's clothing, in Poundlands too small to accommodate the 90 bays of a full-sized Pep&Co department.
The move comes in the same week Poundland introduced an entirely new type of shop in shop, selling frozen, chilled and fresh food, in another store trial. It also follows the expansion of ambient grocery ranges and the introduction of new multiple price points in a third trial launched in August.

"We're determined to become the retailer our customers are asking us to be," said Poundland trading director Tim Bettley. "Pep&Co, our fast-growing family fashion brand, is a major part of that reinvention and this new pilot of a compact shop in shop will bring the best of our clothing ranges to our smaller stores."