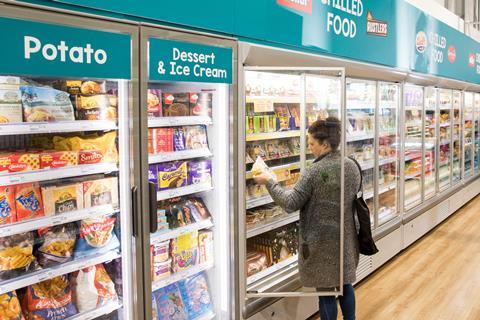 Poundland is selling frozen food for the first time and a broad new range of fresh and chilled.
Around 350 new products from pizzas to potatoes have been introduced in partnership with Yorkshire-based fresh and frozen retailer Fultons Foods.
The move is a pilot launched today at Poundland's Ashbourne branch in Derbyshire, and set to be extended to four more stores by November. It's thought about 250 of Poundland's 800 UK stores may get the treatment in the longer term.
The ranges will roll out in "shops in shops" - a dedicated section of the store, similar in concept to the Pep&Co clothing outlets in more than 300 Poundland branches.
In Ashbourne, it brings to Poundland "everyday" food such as chicken wings, cod fillets and ready meals. New brands include Bernard Matthews, Birds Eye, McCain and Young's.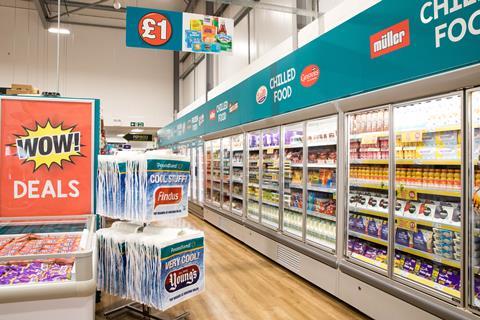 In fresh, the emphasis is on food for now or tonight, while new brands include Ginsters, Cathedral City and Lurpak.

A new aisle of upright fridges and freezers has been installed at Ashbourne, along with chest freezers, following a week-long, £50,000 refit.

Poundland has also introduced a range of seasonal vegetables on rotation "to ensure customers can get more of what they buy week in, week out," the variety discounter said.

New digital signage is to follow over the coming week at Ashbourne and other pilot stores, highlighting special offers that will change daily.

It is part of a plan to "take care of more of customers' regular weekly shopping needs" as Poundland transitions from a "single to simple price retailer".

It comes after the introduction of many new ambient grocery lines in 24 Poundlands across the Midlands in August, along with new price points of £3, £4, £5 and sub-£1.

All the new frozen and fresh lines will also be at "simple price points", Poundland said.

"We're delighted to start testing this new concept here in Ashbourne," said Poundland MD Barry Williams. "We're looking forward to bringing Fultons' expertise to our Poundland customers here and in the other four stores which will pilot the range."