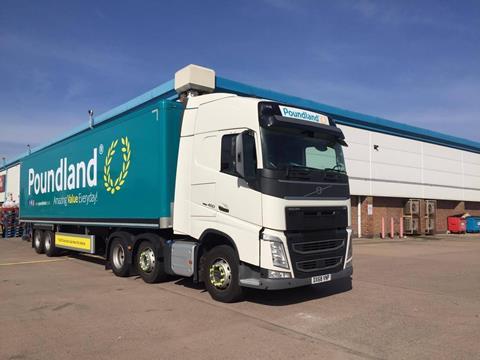 Poundland is offering to the pay for the cost of getting a HGV 1 licence as it looks to boost its pool of drivers.
The discounter said getting the HGV 1 licence could cost up to £2,000 including a four-day training course – to enable existing HGV 2 licence holders, who drive rigid body units, to move to the next level so they can drive articulated lorries.
It has launched a 12-month training contract scheme, open to drivers with at least six months' experience as a HGV 2 drivers. The contract is available for external and internal Poundland candidates – six of whom have already signed up.
Poundland also said all drivers would be given access to an existing bonus scheme. Drivers working from its three distribution centres in Springvale (West Midlands), Wigan (Greater Manchester) or Harlow (Essex) from July to September will qualify for a £1,000 bonus in October.
There will be another £1,000 bonus in January for those who work for the retailer between October and December.
Poundland is recruiting for more than 100 drivers across the three DCs. It currently employs around 265 full and part-time drivers at the three sites.
"We're continuing to invest in our distribution teams to keep operations running smoothly," said Poundland logistics director Tim Goalen.
"Funding the costs of getting a HGV Class 1 licence helps drivers get in the career fast lane, with more employment opportunities and higher earnings potential."
The move comes as a number of leading retailers look to incentivise drivers to join them amid a major shortage of HGV drivers in the UK, which is having a serious impact on the food and drink supply chain.