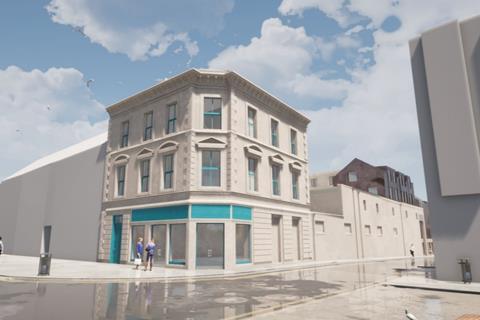 Poundland wants to create 21 flats as part of plans to rebuild a high street store.
The building in Elgin, Moray, has been surrounded by scaffolding since May last year over fears parts of it could collapse.
After it was served with a dangerous building notice by Moray Council, Poundland bought it – the first retail unit it has owned outright in its 30-year history – to pay for repairs itself.
Now the variety discounter plans to knock down parts of it and rebuild it with flats on the upper two storeys. Four of the flats are to be above the Poundland store with another 17 on the upper storeys of a planned extension, which is to house two more commercial units on the ground floor.
The building was constructed in 1856 and for over 70 years was owned and occupied by Woolworths. Poundland's recently submitted planning application highlights "inherent flaws" and a "prolonged period of historic alteration, inappropriate repairs and lack of maintenance" dating from Woolworths' tenure as among its problems.
The plans, submitted last week, propose the building's "reconstruction to reinstate [the] shop on ground floor and provide four flats on upper two storeys (Phase 1) and additional extension to the rear to create 17 flats with additional two commercial units".
"For the first time in Poundland & Dealz's 30-year history, we bought this building, in need of major works, and will be redeveloping to include residential," said Poundland head of portfolio management Benjamin Wall.
"This move allows us to not only address the structural issues in the building, that is iconic to the residents of Elgin, but also provide homes - thus supporting Elgin as a place to live, shop and work."
The Poundland store has continued to trade at the site but with a temporary entrance.
A Poundland spokesman said: "We obtained the freehold last year to try and sort the building out after quite some time of inaction.
"The building is important to Elgin as it's listed and part of the gateway to the town centre, so we thought it was the right thing to do.
"We've been working closely with Moray Council on the plans, culminating in the planning application last week."
Poundland is also renegotiating lease terms across its estate in the wake of the pandemic. The Grocer revealed last month how it had moved to monthly rent payments in arrears across all stores during the pandemic.
All new property deals also include so-called 'Covid clauses', providing the retailer with protections in the event of a future pandemic.