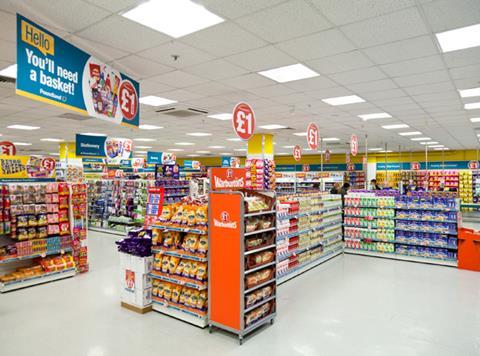 A surge in middle class shoppers has helped Poundland to secure record Christmas sales.
The single-price discounter saw its total gross sales hit £348.8m for the 13 weeks to 31 December 2013, up 12.4% year-on-year. It said the positive festive performance was boosted by the "broadening appeal" of its offer, with AB customers now accounting for 22% of Poundland's customer base.
Over the five weeks to 5 January, it said sales hit record highs, while Poundland served over seven million shoppers in the week leading up to Christmas day. Sales highlights included "strong growth" in the bakery category, up 146%. Poundland is set to join forces with baking entrepreneur and actress Jane Asher to launch an exclusive bakeware collection in spring 2014.
"I'm very pleased to report another strong quarter of sales growth together with a record Christmas as we served more customers in more parts of the United Kingdom and the Republic of Ireland than ever before," said Jim McCarthy, CEO of Poundland.
"There are structural changes underway in consumer shopping behaviour and I'm very pleased that Poundland continues to play a leading role in the growth of the discount sector. As the appreciation and appeal of our amazing value gains further momentum, I'm more confident than ever that in due course Poundland is on track to operate over 1,000 stores in the UK. "
Total sales at Poundland hit £880m last year, while EBITDA soared 15.6%, with rumours of an IPO continuing to gain momentum. Poundland, which is owned by New York-based private equity group Warburg Pincus, is seeking a valuation of £700m-£800m for a flotation within the next few months, according to analysts.