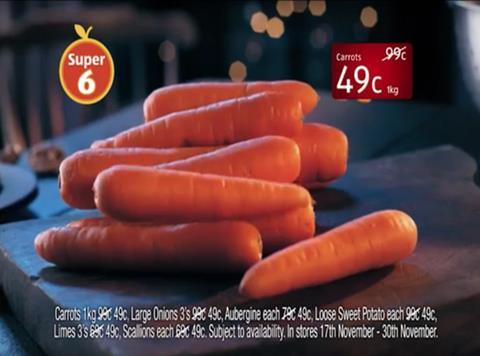 Supermarkets are selling vegetables for as little as 19p in a brutal price war during the run up to Christmas.

This week Tesco brought back its Festive Five promotion, selling carrots, parsnips, cauliflower, Brussels sprouts and potatoes all at 39p each.

Tesco said the initiative, first trialled two years ago by boss Dave Lewis and seen as one of the turning points in its fortunes at the time, was back by "popular demand" from its customers. Despite growing pressures from suppliers, Tesco has stuck with the same price point as 2015 for the deal.

A spokeswoman for Tesco said: "We're continuously investing in quality fresh produce for our customers. They've told us they love our Festive Five offer so we're delighted to bring it back again this year at the same great price, giving customers popular packed Christmas dinner vegetables for just 39p a bag."

However, the UK's biggest retailer faces serious competition from Aldi this year, which has lowered the cost of some of its staple items to almost half that of Tesco's Festive Five lineup.

Aldi's Super Six offer includes 2kg Maris Piper potatoes, 1kg carrots, 335g broccoli, a 2-pack of little gem lettuce, 500g of Brussels sprouts and 600g of parsnips - all for 19p.

Lidl, meanwhile, is selling its own-brand carrots, shallots, roast potatoes and parsnips for 29p each in a bid to win customers doing the Christmas shop.

Customers reacted positively to Aldi's prices on Twitter. One said they would be "getting all my fruit and veg there from now on", and another was "buzzing".

But a similar move in Aldi Ireland two years ago attracted some critics. Michael Kelly, author of Trading Paces and Tales from the Home Farm, warned there was "always a cost with cheap food". "How is it great for consumers that in the long term there might not be an Irish commercial vegetable industry because growers have been put out of business?" he wrote in the Irish Independent.