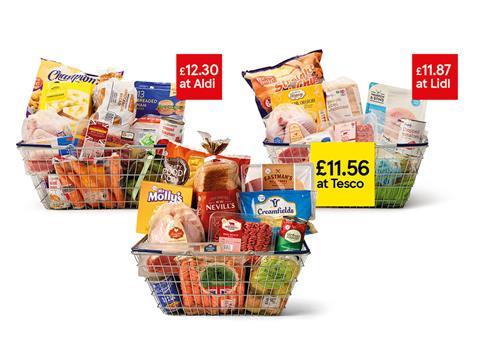 If Dave Lewis intended to get under the skin of the discounters with his claim last week that Tesco is now cheaper than Aldi and Lidl, it seems to have worked.

A tit-for-tat series of ads in the national press this week saw both discounters rubbish Tesco's claim. But it's one thing to prod the opposition, another to convince customers. So is this, as Lewis claims, the coming to fruition of a three-year plan? Or a game of smoke and mirrors Tesco can't win?

Lewis says the time has come to start communicating that it is "not just price-matching but price-beating" the discounters, having relaunched 8,000 of its 10,000 own-label range since last November, including 81% of its entry-level range.

It's fighting talk. But pressed more closely, Tesco admits it does not claim to be cheaper than Aldi or Lidl overall but across selected products from its 16 'Exclusively at Tesco' discount ranges. It also refuses to disclose the exact make-up of the basket it bases that on, which it says includes 26 products such as milk, fruit & veg, meat, fish and poultry.
"There's a feverish desire to be seen to be better than the discounters"
And within 24 hours of Lewis' comments, the newspaper ad was only comparing Tesco against a basket of 12 comparable value items (including whole chicken, apples and cheese), which came to £11.56 at Tesco, £11.87 at Lidl and £12.30 at Aldi. It also launched a new in-store campaign with heavy promotion of its Exclusively at Tesco brands, but again it stopped short of using direct comparisons.

This week Aldi and Lidl launched their fightback. In press ads, Aldi claimed a typical basket of Aldi goods was 35% cheaper than a comparable basket from Tesco.

And Lidl launched an 'Every Lidl helps' ad, claiming a typical trolley of 37 fresh, tinned and household lines would be 30% cheaper at Lidl than at Tesco. Ouch.

"Tesco is being very selective in their claims," says one source. "They've chosen a narrow basket which is pretty disingenuous. You'd need a GPS in Tesco to find that exact basket whereas in Aldi and Lidl you can't move for cheap prices.

"There's a feverish desire to be seen to be better than the discounters but what Tesco is doing is wrapping a brand around its value blue stripes. It's a great contrast to what Aldi has done, which is painstakingly build its brand based on value and quality."

Yet others believe there is much more to Tesco's price repositioning than propaganda.

"I would expect Tesco to step up this communication materially in the run-up to Christmas," says Bernstein analyst Bruno Monteyne. "They will look to assert their value proposition and revamped Finest range."

Monteyne says Tesco is now very competitive: "We price-tested the Exclusively at Tesco products and found they were 22% cheaper than the discounters on those ranges."

Monteyne expects the discounters to react and close the gap to zero, but not to go further. "I expect the prices to be positioned such that the discounters can't afford to undercut them," he says.

"I think Lewis is right to say Tesco is now cheaper than the discounters. Yes, I know the argument from discounters that their average basket is cheaper. And that is correct also. But ultimately you can only really compare prices on products (or services) that are the same. On those comparable ranges, Tesco is as cheap, arguably cheaper, then the discounters."

The fact Lewis is starting to convince respected analysts of Tesco's price credentials is significant. But if the response from Aldi and Lidl turns from newspaper ads to a fully fledged price war, not all Tesco shareholders will be shouting from the rooftops.