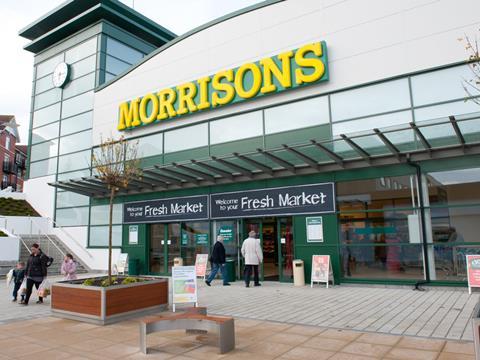 Morrisons has kicked off a fresh round of price cuts by slashing the cost of 200 everyday items including bread, milk and butter.
The cuts, the first under new CEO David Potts who joined in March, effectively represent a continuation of the price cutting strategy introduced by his predecessor Dalton Philips a year earlier.
Morrisons said today that it has now made 1,665 cuts of an average of 16% since the beginning of last year.
"We want to be the best value retailer – offering customers the best price for good quality British products," said Potts.
"Today we've reset some of our prices so that our cupboard essentials will be amongst the lowest on the market."
The latest move includes a mix of both branded and own label products. These include an 11% reduction in the price of four pints of Morrisons semi skimmed British milk from £1 to 89p, Morrisons Savers British tuna chunks 170g down 28% from 79p to 57p and a 400g Hovis Wheatgerm loaf down 21% from 75p to 59p.
The news comes a week after Kantar Worldpanel reported that Morrisons had returned to growth for the first time since December 2013 and was the only one of the big four retailers to see increased sales in the latest sales period.
The retailer said it was also looking to simplify its deals by grouping together products at the same price point or promotional offer. It is also introducing new clearer point of sale materials that it says will make it easier for customers to shop for the best value.
The major supermarkets have come under fire in recent months over their pricing and promotions. In April consumer group Which? lodged a super complaint with the Competition and Markets Authority in what it says are misleading supermarket pricing practices.
| Item | Old price | New price | Saving % |
| --- | --- | --- | --- |
| Morrisons semi skimmed British milk, 4 pints | £1.00 | £0.89 | 11% |
| Morrisons free range eggs, medium, 12 pack | £1.89 | £1.69 | 11% |
| Morrisons British butter, 250G | £0.95 | £0.88 | 7% |
| Morrisons Savers tuna chunks, 170g | £0.79 | £0.57 | 28% |
| Morrisons Savers orange juice, 3x200ml | £0.45 | £0.40 | 11% |
| Tate & Lyle Fairtrade granulated sugar, 1kg | £0.69 | £0.52 | 25% |
| Shredded Wheat, 30 pack | £2.40 | £2.19 | 9% |
| Hovis Original Wheatgerm, 400g | £0.75 | £0.59 | 21% |
| Tampax Regular, 20 pack | £1.75 | £1.29 | 26% |
| Heinz Mums Own Spaghetti Bolognese, 200g | £0.79 | £0.55 | 30% |