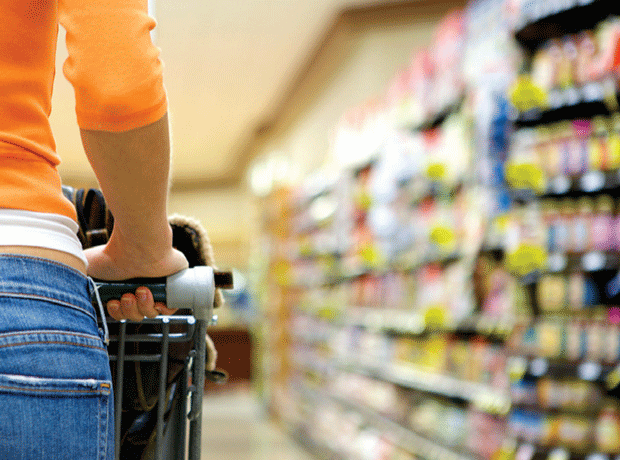 Don't let the unseasonable warmth fool you; it's that time of year when retail eyes become fixed on Christmas. And prospects for the festive period so far seem unclear.
The British Retail Consortium struck an optimistic note this morning, though its latest Footfall Monitor seemed to belie the cheer. Footfall at out-of-town shopping centres was a lone bright spot in September, up 0.5%, while the high street and shopping centres recorded drops of 0.6% and 2.6% respectively – giving an average fall of 0.9%.
The BRC noted this number was at least a slowdown compared to August, when retail footfall dropped 1.1%. Footfall was "going in the right direction", said BRC director general Helen Dickinson. "To look at the figures initially they seem slightly gloomier than they actually are… With Christmas fast approaching footfall is only set to increase on the high street, out-of-town and in shopping centres.''
"If the weather had been more akin to the norm for this time of year, it is likely the result would have been far more favourable," added Diane Wehrle, retail insights director at Springboard.
Furniture sales buoyed out-of-town shopping visits in September, supporting the findings of the BRC-KPMG Retail Sales Monitor last week, which found high demand for such 'big ticket' items.
But this wasn't enough to hide a generally gloomy regional picture. Only three areas recorded a growth in footfall: Scotland (up 2%), South East England (up 1.4%), and Northern Ireland (up 0.2%). The sharpest fall – of 5.6%, in the West Midlands – was described as "anomalous" by Shore Capital's Clive Black, who also noted the mild September had been a "source of considerable stress and disappointment for the UK apparel trade".
Nonetheless, Black agreed with the report's generally upbeat outlook for the rest of the year: "We note that the BRC-Springboard speaks reasonably optimistically about the key Christmas 2014 trading period… We broadly concur with this view and no doubt the major listed retail groups will have their prayer mats out as well."
Not everyone is relying on prayer mats, however. In the face of underwhelming footfall, it seems the big grocers are turning to a tried-and-tested tactic: promotions. Tesco alone ran 2,772 promotions in the four weeks to 5 October. This was up 8.8% on the month before and 12% on the year before, according to promotions specialists Assosia. Indeed all of the big five ran more promos in September than they did in the same period in 2013 (although Asda's promotions were only marginally up). All this despite the current talk in the industry being that 'everyday low pricing' trumps artificial and confusing promotions.
The question remains: will promos be enough to lure in shoppers this Christmas? It seems unlikely, especially in the face of that other threat to retail footfall, of far greater significance than the mild autumn weather: online sales.
"As online sales increase overall we can see how shopping is changing and retailers are adapting," said Dickinson today. "The industry is working hard on providing great online shopping experiences for consumers and this too impacts footfall."
Retailers will have to be on the ball both online and off this festive period as competition intensifies yet further. It could be one of the fiercest fights in years.