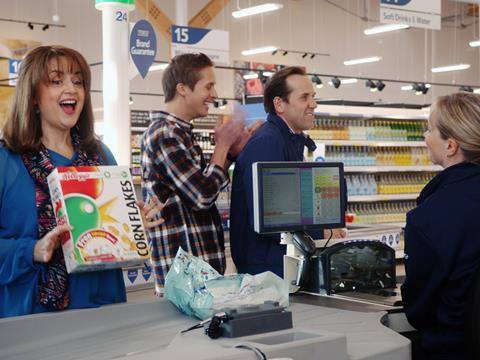 Tesco boss Dave Lewis has defended its decision to scrap the Brand Guarantee Scheme, despite Grocer 33 figures showing it is a meaningful weapon in its price battle against rival supermarkets.

A look back at our mystery shops of the past 12 months shows there were only three weeks in total when a mystery shopper did not get money back from the guarantee.

Our analysis - which found the average saving was £2.06, or 4.1% of the total - comes despite Tesco saying fewer than one in eight transactions received any refund at all and claiming a majority of customers said they would prefer everyday low prices instead.

Lewis was unrepentant about the decision to save money on the scheme, promising to pour the savings into EDLP.

"As we've adjusted our prices the number of people who were actually qualifying for payment has gone down and down and down and down," he said. "And of those who get it, those that recognise they get it is only a proportion of them. So at that point you say 'should we be spending time and money to educate people on something that so few people either need, are aware of or qualify for?'

"We're really happy we did it [launch Brand Guarantee] but now we might as well say money is better off going into base prices given that it's such a small part."

Tesco will pull the plug on the scheme, which launched in 2015, on 16 July. It added that it was committing to cut prices on dozens more everyday products in the next few weeks, having slashed the price of more than 260 products in the past month by between 10% and 50%.

Brand Guarantee offers customers a price match on branded goods when they buy 10 or more items (including at least one eligible branded product) in Tesco's larger stores or online. The difference is refunded at the checkout.
It was a major plank of Tesco's recovery, having initially been set up to try to replicate, nullify and improve on similar schemes from Asda, Sainsbury's and Morrisons.

Analyst Nick Bubb described the move as "odd" as it was "a potential gamechanger".

"I thought it was incredibly powerful, with no silly vouchers, and an instant discount at till. It only makes sense to scrap it if the focus is all on own-label now."

However, Lewis believes it's a case of "market evolution". Tesco's use of a price guarantee has left it increasingly out on a limb, with Sainsbury's ditching the Brand Match promotion in April 2016 as the number of transactions it applied to dwindled, after the Morrisons Match & More scheme was abandoned in October 2015. Only Asda Price Guarantee is still in use, and though it has been under review for over 18 months, redemptions rates on the scheme - which unlike Tesco's instant cashback system requires the user to log on to a website and redeem the vouchers on the next shop - are understood to be so low it's opted to leave it alone.

Tesco won the weekly Grocer 33 pricing survey on only four occasions last year, but if the Brand Guarantee had been factored in, it would have won a further nine times, including the Christmas 33, though it still would not have affected the overall result, with Asda prevailing for the 21st consecutive year.

Tesco chief customer officer Alessandra Bellini said: "Since Brand Guarantee launched in 2015, we have continued to invest in simpler, lower everyday prices.

"As a result, the scheme is far less relevant for our customers today, and so we are withdrawing it as we focus on offering customers even more straightforward value for money at the shelf edge.

"In recent weeks, we've already reduced the prices of over 260 popular products, including own brand and branded favourites, and we'll continue to work hard to offer our customers great quality food at great prices."