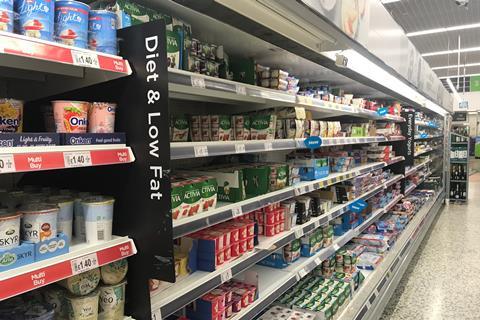 Asda has picked up yet another Grocer 33 pricing win, bouncing back from defeat by Morrisons last week.

The Walmart-owned retailer's £62.06 total was £1.14 cheaper than runner-up Tesco. Asda's winning margin would have been more convincing were it not for the fact that it and Sainsbury's were the only retailers charging full price for the Aperol. At £15, it was a fiver more expensive than Tesco.

Asda was offering the lowest price for 21 items with 11 of these exclusively so. Seven of these were fresh products including the red grapes, papaya, fine asparagus and Albert Bartlett Rooster potatoes.

Tesco meanwhile was cheapest for 12 lines and exclusively so for the Chicago Town pizza, Comfort fabric softener, Innocent smoothie and tagliatelle.

Last week's winner Morrisons had to settle for third spot. Its £64.63 total was £2.57 more expensive than Asda. This was despite running a £10.81 promotion on the Aperol and once again having the most deals.

Morrisons was running a hefty 16 promotions on the products on our list. Guest retailer Ocado had 14, Asda 11 and Tesco nine, whilst Waitrose had seven and Sainsbury's five.

Ocado managed to claim fourth place. While its £69.32 total was £7.26 more expensive than Asda, it was almost £4 cheaper than its soon-to-be former retail partner Waitrose.

Sainsbury's was fifth. Like Asda it was also charging £15 for the Aperol and subsequently came in £8.56 more expensive than Asda at £70.62. This was despite offering the lowest price for eight items and being exclusively cheapest for the Braeburn apples, Coleman's chicken casserole mix and creamy coleslaw.

Waitrose was once again well off the pace. Its £73.22 total was £11.16 more expensive than Asda.