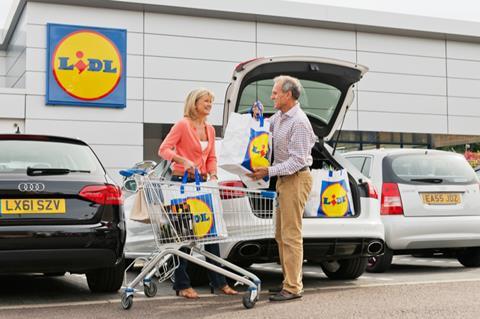 Guest retailer Lidl claimed a dominant pricing win this week, recording its widest margin of victory for more than a year.

Lidl's £43.02 total was £6.64 cheaper than this week's surprise runner-up Sainsbury's. This was a difference of 13.4% and reversed a trend of decreasing victory margins that resulted in it undercutting Asda by just 3.3% last time out in January. This was its strongest performance since coming in 15.1% cheaper than Asda in February 2018.

Lidl offered the lowest price for 27 items, with 22 of these exclusively cheapest. This was despite the overall cost of our shopper list at Lidl increasing 1.2% year on year. The only other retailer to see a year-on-year price hike was Morrisons, up 5.2%.

Lidl's presence denied Sainsbury's a rare win. Even though it only matched the cheapest price for two products, it was 39p cheaper than Morrisons and £2.51 cheaper than Asda.

Lidl and Sainsbury's also had the fewest promotions with four each. Waitrose had six, while Tesco had eight and Morrisons had far more with 13.

Morrisons' promotional activity helped it bag third spot. At £50.05 it was £7.03 (or 14%) more expensive than Lidl.

Lidl was 17.5% cheaper than Asda as the Walmart-owned retailer proved unusually pricey this week. It wasn't helped by the ending of four Rollback promotions, most notably the Kenco Millicano coffee, on which the price jumped back up to £4.99 from £3. Asda was cheaper than any of its rivals for the bottle of Soave and the vanilla ice cream.

Tesco was exclusively cheapest for the Dove deodorant and Lyle's golden syrup, but still came in £9.29 more expensive than Lidl, a difference of 17.8%.

Lidl was almost 25% cheaper than Waitrose.