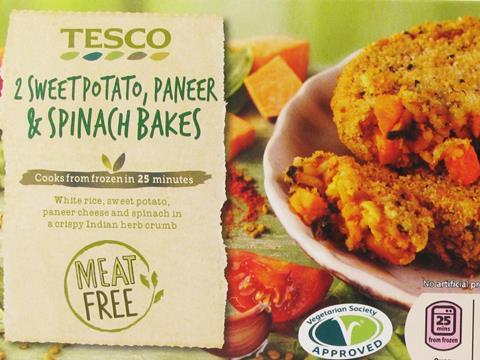 Tesco Sweet Potato, Paneer & Spinach Bakes

Who: Tesco

What: Sweet Potato, Paneer & Spinach Bakes

Where: Frozen vegetarian section

When: Launched March 2014

How much: £1.75/220g

Why: The meat-free market enjoyed a surge of interest in the wake of the horsemeat scandal but this appears to have been short-lived, with category sales virtually flat in the 12 months to February 2014 [Kantar Worldpanel]. What little growth there was came from the branded market, with own label in 10% volume decline, flagging up the need for retailers to keep innovating.

Consumer verdict: These frozen bakes impressed our consumer testers with their "eye-catching" packaging. Scores given for taste were above average, and even non-vegetarian testers said they would be keen to buy them. The bakes were commended for being well-seasoned, tasty and relatively healthy. After trying the product, the amount of testers who said they would buy the bakes almost doubled from 42% to 74%. However, they were not free from some criticism - over the 'hardness' of the sweet potato and an apparent lack of spinach.

Pre-trial purchase: 42%

Post-trial purchase: 74%

Better than what's out there: 72%

New and different: 89%

Overall score: 42/50



What is Fast Foodfax?
It is a subscriber service that has been running for more than 30 years, offering consumer assessments of new products and allowing comparisons with more than 17,000 products from our database. It is objective, impartial and totally independent, and each product is assessed using original consumer feedback from respondents across the UK. See here for further information.
Fast Foodfax is prepared by Cambridge Market Research , which works closely with The Grocer magazine on a variety of projects including the consumer judging element of the The Grocer's Own-label Food & Drink Awards and New Product Awards.
Tel. 01223 492 050 Email: Info@CambridgeMR.com