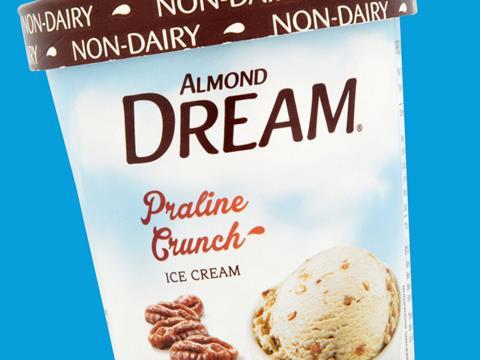 Who: Hain Celestial
What: Almond Dream Praline Crunch Ice Cream
Where: frozen ice cream/yoghurts
When: Launched October 2014
How much: £4.99
Why: Free-from business is booming, with supermarket sales soaring 21.2% to £517.6m last year [Nielsen 52 w/e 11 October 2014]. And the dairy-intolerance market is in strong growth. Launched by Hain Celestial last October, this Almond Dream 'ice cream' is among a raft of dairy-free desserts to have come to market in the past 12 months.
Consumer verdict: This attracted a good level of pre-trial interest, despite some testers claiming the pack design could go un-noticed in freezers. Tested among a non-targeted group - as opposed to those with a lactose intolerance - this product was well received by many and was considered on a par with dairy equivalents. Others, however, considered it lacked creaminess and found it very sweet, restricting many key measures to average levels. Offering something new to the fixture, this product was still a viable option for many, with only 15% claiming they would never buy it. The premium price point was, however, restrictive.
Pre-trial purchase: 40%
Post-trial purchase: 53%
Better than what's out there: 58%
New and different: 66%
Overall score: 39/50

What is Fast Foodfax?
It is a subscriber service that has been running for more than 30 years, offering consumer assessments of new products and allowing comparisons with more than 17,000 products from our database. It is objective, impartial and totally independent, and each product is assessed using original consumer feedback from respondents across the UK. See here for further information.
Fast Foodfax is prepared by Cambridge Market Research , which works closely with The Grocer magazine on a variety of projects including the consumer judging element of the The Grocer's Own-label Food & Drink Awards and New Product Awards.
Tel. 01223 492 050 Email: Info@CambridgeMR.com