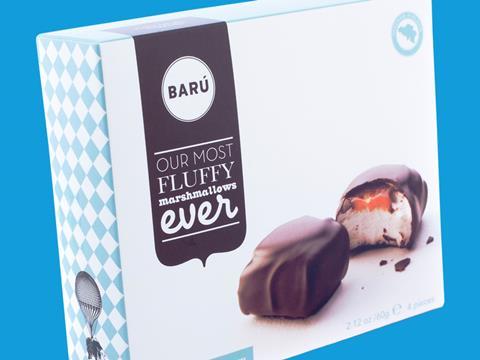 Who: Baru NV
What: Baru Our Most Fluffy Marshmallows Ever with Sea Salt Caramel
Where: Cakes & pastries
When: Launched September 2014
How much: £2.99/60g
Why: Despite having been tipped for some time as one of the next big things in the sweet treats market, fancy marshmallows have yet to make a big impact in mainstream retail. Baru, however, has secured a listing in Waitrose for a number of lines including these salted caramel treats sold in a box of four individually wrapped marshmallows.
Consumer verdict: At £2.99 for four marshmallows, many testers considered them "too expensive." Despite the Belgian provenance and elegant packaging, there was some disappointment after sampling, with some testers finding the bitterness of the chocolate "overpowering" and the marshmallow "hard and chewy." Achieving below-average ratings for many key measures, an overall score of 24 was awarded. Nearly 60% of testers said they would not buy the product, although the more appreciative testers felt they would buy them occasionally as an indulgent weekend treat.
Pre-trial purchase: 10%
Post-trial purchase: 16%
Better than what's out there: 27%
New and different: 57%
Overall score: 24/50

What is Fast Foodfax?
It is a subscriber service that has been running for more than 30 years, offering consumer assessments of new products and allowing comparisons with more than 17,000 products from our database. It is objective, impartial and totally independent, and each product is assessed using original consumer feedback from respondents across the UK. See here for further information.
Fast Foodfax is prepared by Cambridge Market Research , which works closely with The Grocer magazine on a variety of projects including the consumer judging element of the The Grocer's Own-label Food & Drink Awards and New Product Awards.
Tel. 01223 492 050 Email: Info@CambridgeMR.com