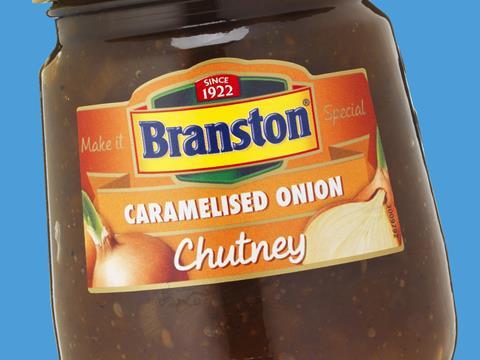 Who: Mizkan Euro
What: Branston Caramelised Onion Chutney
Where: Ketchups/pickles/relishes
When: Launched October 2014
How much:£1/290g
Why: Mizkan Euro extended the brand into chutneys last October with a Mediterranean Tomato chutney and the Caramelised Onion product tested here. Mizkan said it hoped the range would become a beacon brand for the chutney category and increase chutney market penetration from the 21% it was at the time of launch.
Consumer verdict: The strong brand appeal and competitive £1 price point helped generate good levels of pre-trial interest. High expectations were met after sampling, with testers praising the "lovely, tangy" flavours and "chunky" texture. Despite a few suggesting the "vinegary aftertaste" was a distraction, there was limited impact on key measure ratings, which were just three points off the maximum. Almost three-quarters of testers claimed they would definitely or probably buy, compared with a typical category score of 47%. The nature of the product limited frequency of purchase, however.
Pre-trial purchase: 73%
Post-trial purchase: 72%
Better than what's out there: 73%
New and different: 66%
Overall score: 47/50
What is Fast Foodfax?
It is a subscriber service that has been running for more than 30 years, offering consumer assessments of new products and allowing comparisons with more than 17,000 products from our database. It is objective, impartial and totally independent, and each product is assessed using original consumer feedback from respondents across the UK. See here for further information.
Fast Foodfax is prepared by Cambridge Market Research, which works closely with The Grocer magazine on a variety of projects including the consumer judging element of the The Grocer's Own-label Food & Drink Awards and New Product Awards.
Tel. 01223 492 050 Email: Info@CambridgeMR.com