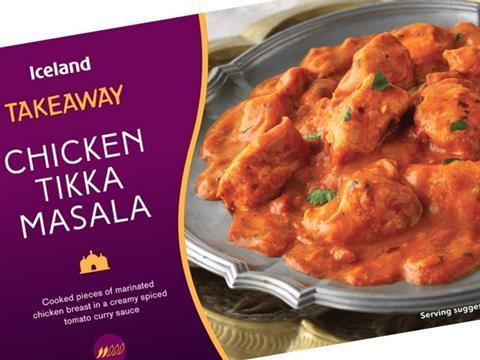 Who: Iceland

What: Takeaway Chicken Tikka Masala

Where: Frozen ready meals

How much: £1.59/375g

Why: The world food market is back in growth, according to Mintel's 2018 World Cuisines UK report, and Iceland is tapping the trend. The frozen specialist gave its selection of globally inspired ready meals a thorough shakeup in September. This Chicken Tikka Masala, while a long-standing option, is one of Iceland's many products to have recently had palm oil removed.

Consumer verdict: The competitive price and attractive packaging drew pre-trial interest among our shoppers, but some were less than impressed after tasting, criticising the "runny" sauce and "stringy" chicken. Nevertheless, the meal scored above the category norm, and two-thirds of testers said they would consider it as a freezer standby. It was "convenient" with "a creamy thick texture". The lack of palm oil also received praise.

Pre-trial purchase: 57%

Post-trial purchase: 42%

Better than what's out there: 23%

New and different: 15%

Overall score: 39/50
Working in own-label? We've just introduced The Grocer Own-Label Accreditation Scheme. Under this new scheme all the products we review can apply for accreditation at any time, through a programme of continuous consumer testing and approval developed to help retailers and suppliers promote the best own-label products. Find out more here.