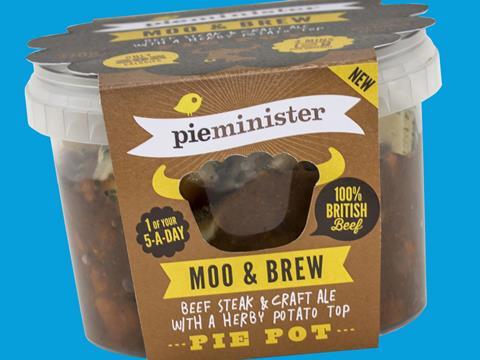 Who: Pieminister

What: Moo & Brew Beef Steak & Craft Ale with a Herby Potato Top Pie Pot

Where: Chilled meals

When: Launched November 2014

How much:£3/370g

Why: Aimed at consumers who might find traditional pies too heavy - and going some way to mitigating health concerns over pies - Pieminister rolled out some existing pie flavours in this new Pie Pot format with potato topping instead of pastry. The four varieties are Matador (steak & chorizo), Cheeky Chick (chicken, white wine & leek), vegetarian Meany Bean (mixed bean, butternut squash & chilli), and Moo & Brew.

Consumer verdict: This microwaveable, single-serve 'pie' was seen as attractively presented with good chiller standout. Those in the North were very impressed and scored it 49 out of 50 compared with 32 in both the Midlands and the South. While some praised the high quality, some felt it lacked meat, and others that the term 'pie' was misleading. The premium price was also a concern. However, the pie was considered novel and a viable option as part of a midweek meal. Four in 10 testers said they would consider buying at least monthly, although 22% said it was not for them.

Pre-trial purchase: 41%

Post-trial purchase: 48%

Better than what's out there: 51%

New and different: 72%

Overall score: 37/50




What is Fast Foodfax?
It is a subscriber service that has been running for more than 30 years, offering consumer assessments of new products and allowing comparisons with more than 17,000 products from our database. It is objective, impartial and totally independent, and each product is assessed using original consumer feedback from respondents across the UK. See here for further information.
Fast Foodfax is prepared by Cambridge Market Research, which works closely with The Grocer magazine on a variety of projects including the consumer judging element of the The Grocer's Own-label Food & Drink Awards and New Product Awards.
Tel. 01223 492 050 Email: Info@CambridgeMR.com