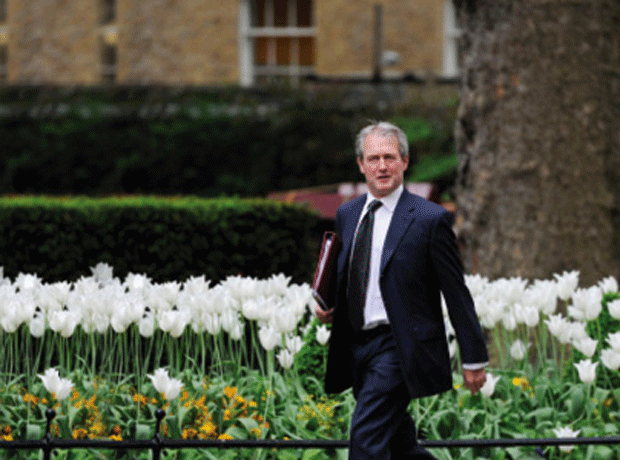 If there's one thing Owen Paterson has learned over the past year, it's that it's easy to upset people. "People take Defra matters incredibly seriously - and good for them they take an interest," he says. But it also means controversy is never far away. "Every day something happens here that is of massive interest to a large number of people, and I might say something in non-inflammatory language and that can be interpreted by people as something that really upsets them."

It's not difficult to think of examples where Paterson has rubbed people up the wrong way since being shuffled into Nobel House last autumn. There's his support for the badger cull, for example, his reputation as a climate change sceptic and - only last week - yet another speech in favour of genetically modified crops.
When the debate about banning neonicotinoid pesticides to protect bee populations flared up recently (Paterson voted against a ban and maintains it's a bad idea), he received 18,000 emails to his parliamentary address alone Defra received a total of 72,000. "I follow the science rigorously," he says, "but on this, my views seemed absolutely horrific to a large number of people."

Paterson's willingness to take a stance on controversial issues, particularly bovine TB and GM, has earned him a certain amount of respect in the food and drink sector, but the drama that comes with that also means maintaining a policy focus in Defra can be a challenge. "It's very, very easy here to be distracted," he admits.
snapshot
Born: 1956 in Whitchurch
Family: Married, three children
Education: History at Corpus Christi College, Cambridge
Political career: Elected MP for North Shropshire in 1997. Held various shadow cabinet roles while in opposition. Paterson was appointed secretary of state for Northern Ireland in May 2010 and has been Defra secretary of state since September 2012
Commercial career: Joined his family's leather business in 1979 - made MD in 1993
Interests: "My main recreation is horses"
Favourite aspect of his Defra role: "I can't walk out of the door in Shropshire without coming across Defra matters. It's phenomenal to be in this position, to actually be able to put some of my views into practice"
Which is why, perhaps, Paterson is fond of reminding everyone of his four core policy areas - growing the rural economy, improving the environment, protecting the country from animal disease and protecting the country from plant disease. In food and drink specifically, he says his key areas of focus have been improving "national competitiveness" and boosting exports.

Exports not imports

Having accompanied suppliers on export missions to destinations such as Shanghai, Paterson stresses his support for anyone willing to make a go of exports. "I spent 25 years in the leather business doing exports, so I have a real affinity with these kinds of businesses."

Some industry figures have suggested UK Trade & Investment does not prioritise food and drink as much as it could, but Paterson insists that's not true. "We, as a team, are going out in person and encouraging many suppliers to come along. Part of that is to meet the UKTI representatives and to show this is a priority for this government and to make sure that they do help."

Meanwhile back in the UK, the focus is on reclaiming the 22% of food and drink that, according to Paterson, could be produced here but is currently made abroad. He admits he hasn't yet worked out why that production went abroad in the first place, but he hopes a summit with the food industry in July will provide answers.

Paterson's push for import substitution is partly fuelled by food security concerns, but also a belief the UK works to superior production, animal welfare and traceability standards in areas such as dairy and meat. And he thinks the horsemeat scandal offers an opportunity to convince more consumers to switch to British - provided confidence in the system can be restored.
"I have asked Chris Elliott to look at the regulatory system and how it impinges on the whole food network"
Which is where the review he has commissioned Professor Chris Elliott to conduct comes in. It was prompted by 'Horsegate', but Paterson wants Elliott to look at the food and drink supply system more broadly. Fraud and adulteration affect all parts of the industry, he says. "There are many olive oil producers who are very worried about adulteration and substitution with all sorts of very inferior products. Confectionery and bakery products, meat products, dairy products - they are all potentially subject to fraud."

Paterson doesn't want to pre-empt findings, but he seems to have made up his mind on one point already: the food industry relies too much on paperwork and doesn't do "nearly enough" physical testing. He wants "properly targeted, risk-assessed testing" based on intelligence, as well as "random tests". The horsemeat scandal has also prompted fresh debate about the structural changes brought in by the coalition in 2010, which reduced the Food Standards Agency's remit in England and gave food safety and labelling responsibilities to Defra and the Department of Health. Paterson maintains the changes were "pretty modest" and that their impact has been "exaggerated", but he doesn't rule out further adjustments.
"My views on neonicotinoids seemed absolutely horrific to a large number of people"
Elliott will "certainly look at the organisations involved, to look at the current arrangements and see how they can be improved," he says. "I have asked him to look at the whole regulatory system and the manner in which the system impinges on the whole food network." Including the division of responsibilities between the FSA, Defra and DH? "Yes, sure."

What the Elliott review recommends remains to be seen, but it could have a profound impact on Paterson's thinking and, therefore, the food and drink industry… the emphasis being on 'could'. Asked what he learned from the 18,000 emails that clogged up his inbox over neonicotinoids, he gives an answer that suggests he doesn't change his mind often: "I listen politely to other people's views, but I do what I think is the right thing."

Whether other people agree with that is, of course, another question.