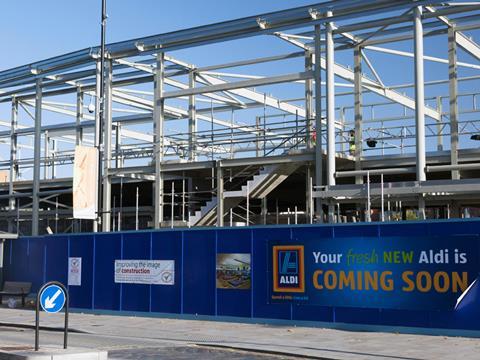 Discounters Aldi and Lidl are completely dominating the race for new supermarket space in the UK, with the value of their property plans for 2015 and beyond more than 50% higher than the big four put together.

New figures compiled for The Grocer by Barbour ABI show the two discounters are also soaring ahead when it comes to the number of planning applications, with 53 in the pipeline this year so far combined, compared with a total for Tesco, Asda, Sainsbury's and Morrisons of just nine.

Last year, Aldi narrowly edged ahead of Tesco in the amount of supermarket square feet it put planning applications in for, but the balance of power has swung drastically in 2015 with the discounters having more than 10 times the number of projects submitted and nearly five times as much space.

Figures for the year to date show Tesco with just three projects for 2015 and beyond - a new Express in Redhill, Surrey, a superstore in Hemel Hempstead and an extension to an existing store near Aberdeen.

In contrast, Aldi has submitted no fewer than 33 projects accounting for nearly 520,000 sq ft of space, compared with Tesco's 110,000 sq ft.

Aldi's ambitions account for nearly £100m at the end of April, compared with Tesco's £16m.

Lidl is well clear of the rest in the number of applications it has submitted, with 20 projects in the pipeline, although Asda just beats it in the amount of square footage involved.

However, most of Asda's plans are for extensions to facilities for home deliveries and click & collect, whereas Lidl, like Aldi, has been submitting plans for new stores across the UK.

In marked contrast, Sainsbury's has just two projects in the pipeline and Morrisons none, having had none last year either. "There has been a huge change in the pecking order when it comes to the number of applications, the square footage and the value of the projects these companies are involved in," said Michael Dall, lead economist, construction, at Barbour ABI.

"The figures show the extent to which the big supermarkets have put the brakes on in the space race whereas the discounters look like they are well ahead of where they were last year.

"It looks very much as if the big four have decided to concentrate their spending on other things, such as price cuts."

Last week, Tesco CEO Dave Lewis announced a £4.7bn property writedown on the value of its existing stores in the UK, as well as nearly £1bn on the 49 sites where it has cancelled planned supermarkets.