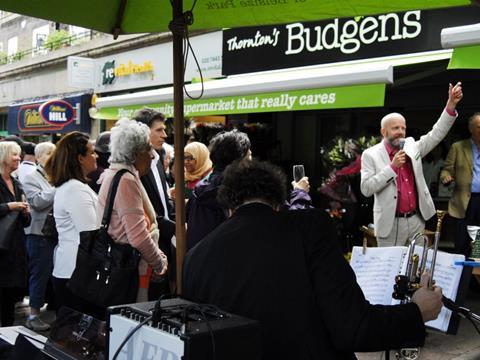 Influential Budgens retailer Andrew Thornton has relaunched his Belsize Park store with a renewed focus on fresh meat, organic and locally supplied produce.

The store, which re-opened last week, has been refitted following feedback from 100 customers canvassed as part of Thornton's strategy to make the store the "community supermarket that really cares". and put "the heart back into business."

It has more than doubled the number of organic lines and has a greater emphasis on local and small suppliers. About 20 new lines from small suppliers have also been added, bringing the total number of small and local suppliers to "almost 100". Thornton said customers wanted meats to be improved, so a new butchery counter has been installed supplied by Essex producer Rare Breed Meat Company. Organic herbs and vegetables are also supplied by South London supplier Calabaza, which delivers produce on the same day it is harvested.

The wine and beer section has also been expanded and "much improved" with more produce from small vineyards, including organic and biodynamic wines and information about each wine producer.

The store also has a strong focus on reducing energy consumption with new LED lighting and a "voltage optimiser", which Thornton said had helped drive down energy consumption by 50% over the past three years, saving £38,250.

"One of our commitments is to reduce our impact on the environment and inspire others to do the same," he said. "We set out in the beginning with a target to hit 50% and now it's been executed we will continue the journey."

Outside the store is a "mini shop" offering an improved range of flowers, fresh juices, sandwiches and locally supplied ice cream. A BBQ will also run each weekend over the summer, selling homemade burgers.