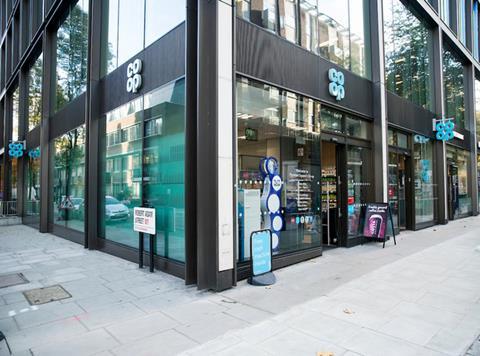 Co-op is set to open 12 new stores in London over just 30 days as part of its drive to increase its presence in the capital.

The retailer is spending £9m on the new stores, the first of which opened last week in Portman Square, Westminster. The next will open on Friday on Rotherhithe Street, Southwark followed by Hampton Road, Twickenham next Wednesday.

"2018 has been one of our most successful years of new store openings, with more than 100 new stores opening their doors across the UK, over a third of which are in London and the south east, and we're always looking for new locations where we can be at the heart of local life," said Co-op property, strategy and development director Stuart Hookins.
"It's extremely encouraging to see how the rapid growth rate of our store portfolio bucks most high street retail trends. We believe our success is due to launching the right stores, in the right locations. Ultimately, it's all about getting closer to our members and customers, providing what they want, when and where they need it. In addition to this, our continued investment into the quality of our own-label products has helped to change the perception of the brand which in turn changes consumer shopping habits."

Earlier this month the Co-op agreed terms on a new £45m distribution centre in Bedfordshire to support its growth in London and the south east.

The retailer said the new 661,000 sq ft depot - to be located just off the A1 at Symmetry Park, Biggleswade - was expected to open in early 2022 and would create up to 1,200 jobs.