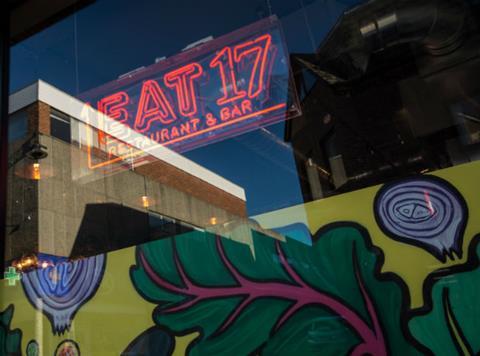 Premium food retailer Eat 17 is set to launch a new store in Hammersmith next month, complete with an indoor street food market and yoga classes.

Opening on 2 August, the new store will have three street food booths featuring local food concessions such as The Pizza Project and Knowing Meat Knowing You, with in-store seating.

There will also be a 2,000 sq ft mezzanine room where yoga classes will take place.

The store offers a refillable food station with 100 lines, following the successful rollout of the same scheme in Walthamstow and Bishop's Stortford earlier this year. Customers can fill their own containers with items such as olive oil, detergent, pasta, rice, cereals, nuts and grains.
Eat 17's own brand Bacon Jam and bakery items will be on offer alongside everyday Spar essentials and local concession ranges, and customers will also have access to a self-serve coffee machine.

"The indoor street food market dining concept has proven to be a hit in our Bishop's Stortford store and we expect the reception to be just as positive when we open our doors to Hammersmith customers in August," said Eat 17 co-founder James Brundle.

"Providing the best experience for customers is at the heart of everything we do at Eat 17 and that's why we've chosen to use the well-lit mezzanine space for yoga classes to add to the customer experience on offer."

Eat 17 already has four stores in Walthamstow, Hackney, Whitstable and Bishop's Stortford. It is set to open an additional site in Leytonstone later this year.