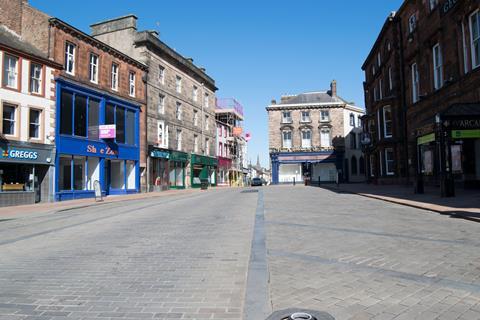 Four out of five major retailers have been pursued for rent by landlords threatening County Court Judgements, The Grocer can reveal.
Of 25 major national retailers surveyed by the BRC in October, 21 had been threatened with a CCJ, and legal proceedings had begun against 13. Eleven of the retailers were dealing with up to five CCJ claims, while one was defending 10 and another 17.
The Grocer revealed in September that BRC CEO Helen Dickinson had written to communities secretary Robert Jenrick calling for CCJs to be added to the list of banned legal avenues for recovering rent during the pandemic.
The latest survey, seen by The Grocer, is the first clear indication of the scale of their use, and the cost to retailers. It reveals the average cost of dealing with CCJs per retailer is £22,000.
The BRC argues CCJs are a "loophole" in emergency protections for tenants. It claims landlords using them are "undermining the will of parliament" by sidestepping a ban on evictions and other forms of rent debt enforcement.
"What's particularly problematic about CCJs is that the occupier is found liable for all the costs in the event the case finds against them," BRC property policy adviser Dominic Curran told The Grocer. "And it will almost certainly find against them because they have a legal contract to pay rent and they're not paying that rent.
"Those costs can be enormous. One member said they owed £25,000 in rent and expected the costs for the CCJ to be £25,000 as well.
"Because landlords know they are not going to be liable for costs, they are not under any inclination to reduce them. So, you've got very well-paid solicitors in London charging £250 a letter, let alone £5,000 to file the claim."
British Property Federation CEO Melanie Leech argued the practice was encouraging retailers to negotiate with landlords over the mounting debt.
"I am aware CCJs are being sought in some cases to try to bring tenants to the table," she said. "In some cases, tenants who weren't engaging have come to the table with their landlords. It's about driving a conversation and that's pretty much the only tool landlords have.
"It also gives landlords some comfort that it's recorded that a debt is owed to them."
The BRC is lobbying for existing protections to be extended for another quarter from 1 January, and for CCJs to be added, while the BPF has dismissed an extension as unsustainable.