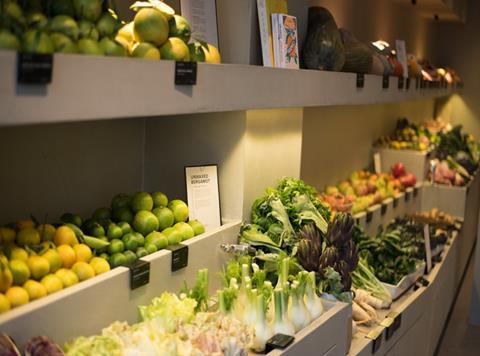 Fruit and veg specialist Natoora has opened its third standalone store in London.

The company hailed the new 538 sq ft site in Chelsea's Fulham Road as a precursor to "ambitious plans" to expand across the capital.

The two other Natoora stores are in Chiswick and Sloane Square.

Natoora also supplies Ocado, has Natoora-branded produce bays in selected Waitrose stores in London, a concession in Selfridges and a wholesale business supplying the catering trade.

"We have ambitious plans to expand our retail presence across London, and we are looking at more central sites for our next locations," said Natoora head of brand Mary Coote.

"We are also looking at Paris and New York, where we currently have a wholesale presence."
The Chelsea store sticks rigidly to providing produce in season. It promises shoppers will "rediscover the seasonal shifts of flavour that have been eliminated by mainstream greengrocers and supermarkets in favour of uniform, year-round produce".

The new store sells everything from early-season green bergamots from Calabria to tema artichokes direct from Sardinia.

The shop urges customers to consider the origins of their produce in the same way they would meat or fish.

It says it works directly with a known community of small-scale growers and can trace the seed, soil and season of everything they source.

The shop also sells freshly made salads, sauces, dips and soups and it showcases independent producers who share its commitment to sustainability and craftsmanship, from small-batch dairy to single-estate British rapeseed oil.
The company says its "To Go" range is also completely traceable because it is prepared using the same produce that is available to buy in store.

Franco Fubini, chief executive and founder, said he hoped the new store would have an impact not just on how shoppers perceived fruit and vegetables but also on how other grocers and supermarkets sourced and supplied fresh produce.

"It is time to rethink the supply chain completely. With this new location we set out to highlight the importance of supporting responsible farming methods and favouring seasonality, traceability and nutritional density over high yields and uniformity," he said.