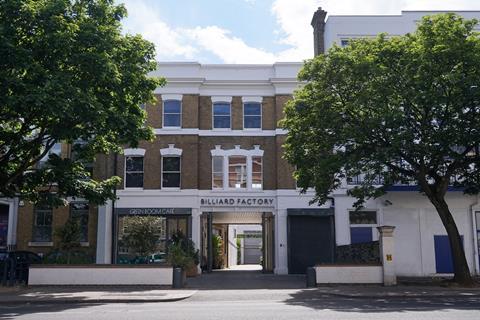 As it seeks dark warehouse sites across the capital, ultra-rapid grocery delivery service Gorillas has secured office space for its new London headquarters.
Gorillas Technologies has signed up to a 4,500 sq ft space within a former billiard table factory.
The letting – within the Billiard Factory on Holloway Road – confirms Gorillas' confidence its business is sustainable in the UK, given the term is five years long.
The German delivery business launched in Angel, Shoreditch and the surrounding areas earlier this month, offering a range of groceries delivered from its own distribution hubs. Its arrival on these shores came after several months of rapid expansion across Germany and the Netherlands.
The company raised $44m in Series A funding in December.
The new HQ sits within a private gated estate owned by Fabrix, shared with several other startups, including off-the-shelf bottled cocktail shop Le Cocktail Shop, run by Patron London, video production house Blink Productions and the National Youth Theatre.
"We're really excited to be launching in North London and we feel the Billiard Factory is the perfect hub to grow our business from," said George Edgar, UK brand marketing manager at Gorillas. "Bold, creative values sit in sync with the heart of our business and we're looking forward to developing relationships with the other startups that occupy the space."